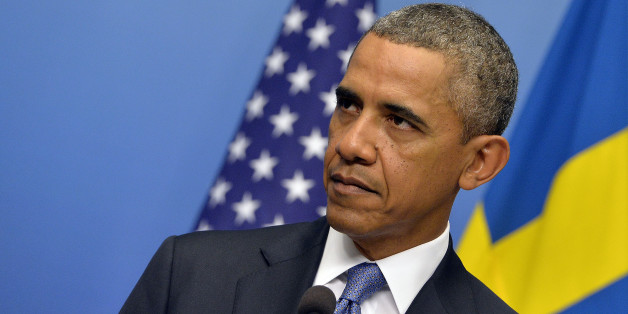 Americans are growing more opposed to military action in Syria. The president prepares to address the nation, but political scientists say he won't move public opinion. And tomorrow is pollster Groundhog Day in NYC: If Bill de Blasio falls short of 40 percent of the vote, we'll see three more weeks of primary polls. This is HuffPollster for Monday, September 9, 2013.
OPPOSITION TO SYRIA AIRSTRIKES INCREASES - Our summary: "The American public's opposition to intervening in Syria has grown rapidly in volume and intensity, new polling finds, with many unpersuaded by President Barack Obama's argument and convinced the U.S. has no good options. According to a Pew Research/USA Today report released Monday, the percentage of Americans opposing military action rose 15 points in the past week, from 48 percent in a survey ending Sept. 1 to 63 percent in a survey ending Sept 8. In the most recent poll, 45 percent were "strongly opposed," while the percentage favoring airstrikes remained stalled below 30 percent. Obama, who will make a primetime speech on Tuesday calling for action, faces an increasingly uphill battle to win popular support. Only 35 percent think he's made a clear case for launching airstrikes, virtually unchanged from last week." [Pew/USA Today]
Six other national polls released on Monday found similar results:
CNN/ORC International - Although 82 percent believes the Syrian government has used chemical weapons to kill its own people, just 39 percent say Congress should authorize U.S. military action in Syria. [CNN/ORC, CNN/ORC part 2]
Washington Post/ABC News - Sixty-four percent oppose U.S. airstrikes against Syria, up five percentage points from their prior poll last week. "The largest change in the survey was among Republicans. Fully 71 percent of Republicans now oppose launching airstrikes, up from 55 percent last week." [WaPost]
AP/GfK - Only 20 percent think strikes would be a likely deterrent to other leaders who might use chemical weapons. AP's Lara Jakes and Jennifer Agiesta: "Most Americans oppose even a limited attack on Syria – likely with cruise missiles – despite Obama administration warnings that inaction would risk national security and ignore a gruesome humanitarian crisis. And a slim majority – 53 percent – fear that a strike would lead to a long-term U.S. military commitment in Syria." [AP/GfK]
Gallup - "Americans who oppose U.S. military action in Syria are most likely to explain their position by saying that the events in Syria are none of the United States' business, that the U.S. does not need to be involved in another war, or that the action is not well thought out, won't work, or would lead to negative consequences for the U.S." [Gallup]
Reuters/Ipsos - "63 percent of Americans opposed intervening in Syria, up from 53 percent in a survey that ended August 30. [Reuters]
McClatchy/Marist - David Lightman: "Democrats, Republicans, whites, blacks, Hispanics, old, young, men and women all are deeply skeptical of the mission and his leadership. A solid majority of voters opposes airstrikes and wants Congress to reject Obama's request for approval…A majority thinks he does not have a clear idea of what he's doing with Syria. The ranks of Americans who approve of the way he's handling foreign policy has dropped to the lowest level since he assumed office. And an overwhelming majority insists he stand down should Congress vote no. [McClatchy]
DE BLASIO LEADS POLLS, CLOSE TO A RUN-OFF PROOF VICTORY - From our HuffPost summary: The final round of polls in New York City's mayoral race confirm a dominant front runner in Public Advocate Bill de Blasio but leave much uncertainty about the outcome of Tuesday's Democratic primary election. The final polls show de Blasio close to but still short of 40 percent, the threshold necessary to avoid a run-off. And though two of the three final surveys show former city Comptroller Bill Thompson nudging ahead of City Council Speaker Christine Quinn for second place, the order of finish is far from certain...The HuffPost Pollster chart, which combines all of the public polls into combined trend lines for each candidate, currently shows de Blasio leading with 38.3 percent, followed by 21.4 percent for Thompson and 17 percent for Quinn...The polling shows de Blasio strongest among his ideological base of self-identified liberals, 40 percent of whom supported him. He is also ahead, though, among virtually all demographics, including some his opponents had hoped to win. In the Marist poll, he was 14 points ahead of Thompson among African-American voters, and 13 points ahead of Quinn among women. In the Quinnipiac poll, he was 10 points ahead of Thompson among African-Americans, and led both Quinn and Thompson among women. [HuffPost; see also releases from Marist, Quinnpiac and PPP]
Uncertainty about the Comptroller's race - The final polls also show a close and uncertain contest between the two Democrats in the race for city comptroller, which has received national attention due to the candidacy of former Gov. Eliot Spitzer. In the Marist poll, Stringer took 47 percent to Spitzer's 45 percent. PPP found roughly similar numbers, with Spitzer edging out Stringer, 45 percent to 41 percent. In the Quinnipiac survey, however, Stringer had a 7-point lead, with 50 percent to Spitzer's 43 percent. HuffPollster's average, which includes all publicly available polling, gives a slight advantage to Stringer, whose support has risen to an average of near 46 percent, from under 40 percent earlier in August. Quinnipiac has typically measured less support for Spitzer than other polls. With the Quinnipiac polls filtered out, the Pollster chart would give Spitzer a three percentage point edge (roughly 46 to 43 percent) [Pollster chart, chart without Quinnipiac]
Remember: NYC is a tough place to poll -Polling faces a greater degree of difficulty in the New York City primary, however, because turnout is typically low and hard to predict and survey response rates are lower than elsewhere in the nation. Historically, as reported by the Guardian's Harry Enten, the final polls often exhibit errors large enough to leave real uncertainty about whether de Blasio will be able to avoid a runoff. In particular, Enten found, "the final primary polls have consistently undervalued the minority candidate," in prior races for mayor. That history, along with a modest upward trend in recent weeks, suggests further gains for Thompson, although the fact that de Blasio appears to lead among black voters may muddle the historical pattern." [HuffPost, Guardian]
One explanation for inaccurate past NYC polling - The New Republic's Nate Cohn: "It's really pretty astonishing that Quinnipiac contacted 782 likely voters, or even Marist's 556. Assuming that the Quinnipiac and Marist polling units haven't enslaved their entire student bodies to contact 5,000 registered voters in one of the toughest places to poll in the country, the only realistic explanation is that their likely voter screens are pretty loose. And at the same time, there are probably some pretty serious coverage gaps that can't be addressed by weighting. So these polls are full of people who aren't going to vote, and they're probably under-representing certain types of people who will vote. The margin of error on subgroups is quite high, which is problematic in a city typically characterized by stark ethnic divides. Altogether, it's not hard to see how these factors conspire to generate unusually large polling errors." [New Republic]
HUFFPOLLSTER VIA EMAIL! - You can receive this daily update every weekday via email! Just enter your email address in the box on the upper right corner of this page, and click "sign up." That's all there is to it (and you can unsubscribe anytime).
MONDAY'S OUTLIERS' - Links to more news at the intersection of polling, politics and political data:
-Dan Balz, drawing on a paper by political scientist George Edwards, says that presidential speeches don't move public opinion. [WaPost]
-George Edwards says Obama's Syria speech won't matter. [Politico]
-Jonathan Bernstein explains that moving public opinion is the least important reason why Obama is speaking. [WaPost]
-Political scientist David Parker sees pain for Democrats in 2014. [Symposium Magazine]
-Rasmussen Reports is relaunching its television show online. [Rasmussen]
-Moscow's election results break new ground in "head shot" bar charts. [@EmmaWells1]