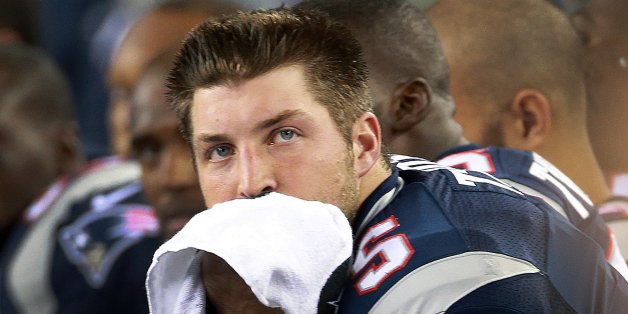 The Arena Football League team owned by the band KISS wants Tim Tebow to be its new quarterback. The LA Kiss announced Monday it offered Tebow a three-year contract "with the possibility for Tebow to earn millions."
"Tim Tebow is one of the most recognized and respected athletes in sport," Paul Stanley of KISS said in a news release. "His joining us would mean great things for his fans and for our team, especially from a business standpoint. His credibility within the sports arena is paramount and with our commitment to bringing football without compromise back to [Los Angeles], we're excited to see how this offer turns out."
In addressing Tebow's merchandising power, Gene Simmons of KISS said, "We're excited for the opportunity to see him with an LA KISS uniform on, and for the LA KISS fans to be rockin' their Tebow shirts and jerseys."
Oh yeah, he might help the team on the field, too. Brett Bouchy, one of the non-KISS co-owners, said the indoor league "is the best place for Tim to refine his skills and gain valuable repetitions."
Tebow, a former member of the Denver Broncos and New York Jets, was cut by the New England Patriots before the season.
No apparent response from Tebow yet, but we'll keep you posted.
BEFORE YOU GO
PHOTO GALLERY
Best 2013 Sports Photos