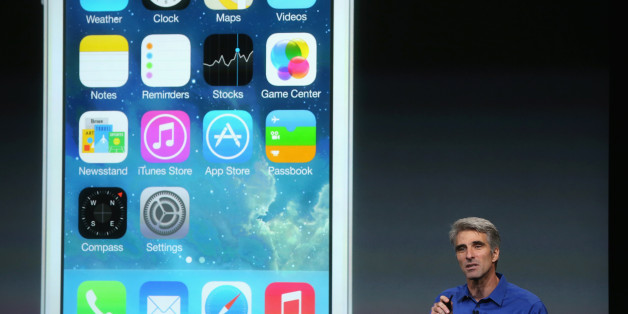 Forget candy-colored casings or gold finishes. Apple announced what could be the biggest change to its smartphones during an event at its California headquarters on Tuesday: iOS 7, the latest operating system for iPhones and iPads, will be available to the public on Sept. 18.
iOS 7, which was previewed to developers in June, offers such a radically different design to the iPhone's software that it feels like getting an entirely new device, said Craig Federighi, Apple's senior vice president of Software Engineering, on stage in Cupertino, Calif.
There are over 200 features on iOS 7, and many popular apps will be free. Among those free new apps are iPhoto, iMovie, Pages, Numbers and Keynote. When you update get a new device with iOS 7, these apps will come free.
Other developments and new features in iOS 7 include improvements to Siri, new ringtones and new alert sounds. Federighi demonstrated how Apple's voice-controlled assistant will now be able to draw upon information from Twitter and Wikipedia.
"What's Lady Gaga saying," Federighi asked Siri on stage.
"Here are the latest tweets," it responded.
The new operating system will be available on iPhone 4 or later, the iPad 2 or later, the iPad mini and the 5th generation iPod touch.
iOS 7 also has a Control Center that is accessible from any screen by swiping up. In that Control Center, you can turn on or off Wi-Fi, Airplane mode, and Do Not Disturb. You can also access your calculator, camera, timer and flashlight, and adjust your screen's brightness. You can also access your currently playing music so you can pause, adjust volume, and more.
Apps like Mail and Safari have all new, brightly colored icons, which have drawn the ire of some in the design community. Many have criticized iOS 7's new design, and some have even taken it upon themselves to create their own redesigns of iOS.
CORRECTION: A previous version of this post incorrectly stated that iWork would come free when users updated iOS 7.
More news from Apple's big event:
BEFORE YOU GO
09/10/2013 2:42 PM EDT
How To Download iOS 7
Here are instructions from Quartz on how to download Apple's latest operating system iOS 7:
Don't download iOS 7 today. You're not a developer. If you were a developer, you'd already know how to download Apple's newest mobile OS and you'd be making bank by building apps.
Read more from Quartz here:
09/10/2013 2:38 PM EDT
Apple's Stock Price Down After Announcements
From HuffPostBiz's Mark Gongloff:
NM, $AAPL is now down 3%. Still not crashing, but.

— Mark Gongloff (@markgongloff) September 10, 2013
09/10/2013 2:28 PM EDT
Apple Provides Some More Info On New Products
If you want the latest on Apple's announcements straight from the company itself, click over to Apple's news release center. There are press releases on the iPhone 5S, 5C and more.
09/10/2013 2:25 PM EDT
NYMag's Kevin Roose On Whether Apple Can Turn Finger Print Scanning Technology Into A Thing
From New York Magazine:
A handful of device makers have tried to make fingerprint-authentication happen for people who aren't shuffling around millions of dollars every day. And they've been greeted with a unified meh. Ordinary users, it seems, would rather type in a passcode than fiddle with a fingerprint scanner, even if it means their information is more easily accessed by people who aren't them.
Read more from NYMag here.
09/10/2013 2:15 PM EDT
More Details On iTunes Radio
Apple announced that iTunes Radio will be available with iOS 7. From HuffPostTech:
Apple announced that its latest operating system iOS7 will include a livestreaming music service called Apple Radio, at its press conference Tuesday.

The service, which was announced in June, is expected to compete directly with Pandora, Spotify and others by providing users with custom stations created based on their music preferences, the ability to purchase a song they're listening to and more.
09/10/2013 2:12 PM EDT
Elvis Costello Is On The Scene
HuffPostTech Tim Stenovec reports that famed singer Elvis Costello is at Apple's press event. Cool?
09/10/2013 2:11 PM EDT
More Details On The iPhone 5S
From HuffPostTech:
The iPhone 5S will be the same size as its predecessor, the iPhone 5, with a 4-inch screen. Big screens are all the rage these days, and Apple is rumored to be working on phones with larger screens, but physically, the iPhone 5S looks very similar to last year's model.

The phone includes Apple's new A7 64-bit chip, and Apple describes the 5S as the "world's first and only smartphone" with a 64-bit chip. Phil Schiller, announcing the new phone, described the device's CPU and graphics as twice as fast in speed as the iPhone 5. The chip also packs a series of other performance and graphics enhancements. In addition to the A7, the phone includes the M7 motion coprocessor. The M7 "continuously measures motion data," and includes the phone's accelerometer, gyroscope and compass.
Read more here:
09/10/2013 2:08 PM EDT
You Can Pre-Order Some iPhones Starting On Friday
The iPhone 5C is available for pre-order staring on Friday Sept. 13. Both phones will go on sale starting Sept. 20.