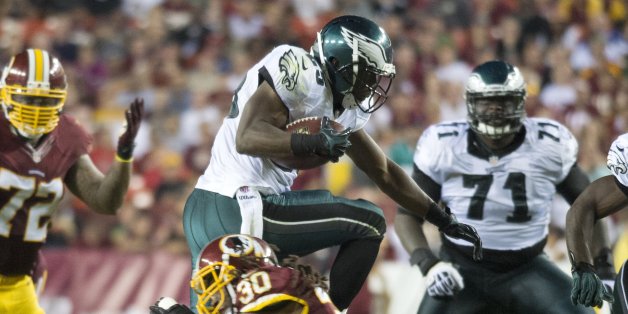 Shady looked at home in the spotlight on "Monday Night Football." Philadelphia Eagles running back LeSean "Shady" McCoy also looked quite comfortable in Chip Kelly's up-tempo offense.
McCoy broke out for 184 rushing yards on 31 carries in the Eagles' 33-27 win. His signature highlight came in the third quarter when he carved up the Washington defense on his way to a 34-yard rushing touchdown
After being left grasping at air during this devastating touchdown dash, Washington cornerback E.J. Biggers will not need to question how McCoy determined his Twitter handle: @CutOnDime25.
McCoy's score pushed the Eagles' lead to 33-7 lead. It also got former New York Giants star Michael Strahan on his feet.
McCoy just made me jump off the couch!! DAAAAAMMMMMNNNN!!!

— Michael Strahan (@michaelstrahan) September 10, 2013
For another -- faster -- look at the ankle-breaking run, here is a GIF that presents McCoy's moves at the pace that the defense may have experienced them.
(GIF via @WorldofIsaac)
BEFORE YOU GO
PHOTO GALLERY
PHOTOS: Washington vs. Philadelphia