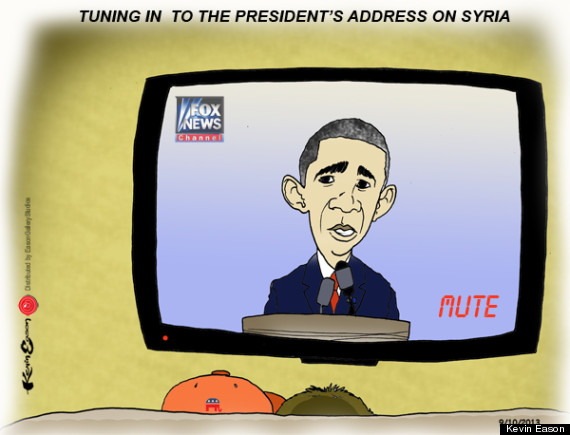 As the country waits for President Obama's national address on the situation in Syria, tensions are rising as the nation's international involvement hangs in the balance.
Although Senate Majority Leader Harry Reid (D-Nev.) said Tuesday that the Senate is still moving forward with a resolution in support of the president's call for military strikes on Syria, he offered no timeline on when a vote may happen.
While the majority of lawmakers are leaning toward not taking action in Syria, Obama has not given a direct answer as to whether or not he will take action without the backing of Congress. And with support dwindling domestically and internationally, it's unclear as to whether or not anything will happen.
But when Obama addresses the nation this evening, will Democrats, Republicans and Americans themselves tune in or will they tune out? Cartoonist Kevin Eason thinks the latter, especially when it comes to the GOP.
While Eason feels lawmakers are being responsive to their constituents hesitance to take military action in Syria, he thinks right-wingers have additional reasons not to support a military strike, and may therefore tune out this evening.
What do you think? Will Americans hear Obama out during his national address on Syria? Will the president convince Congress to give him their blessing? Should the U.S. take military action in Syria? Share your thoughts in the comments section below.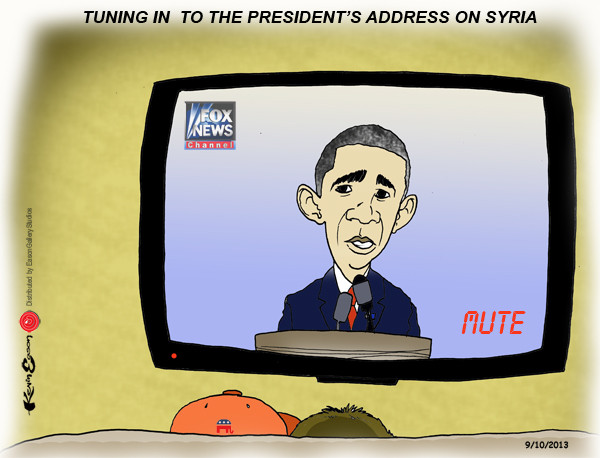 About the artist:

Kevin Eason is a freelance editorial cartoonist and illustrator from New Jersey. His brand of satire covers news events in politics, entertainment, sports and much more. Kevin's work features include: Gannet, TVOne, Uptown, The Urban Daily, NAACP, Cengage Publishing, Bossip, WBLS_107.5FM, and various newspapers and magazines throughout the country. Follow him on Facebook.
BEFORE YOU GO
PHOTO GALLERY
The Political Satire Comedy Of Kevin Eason