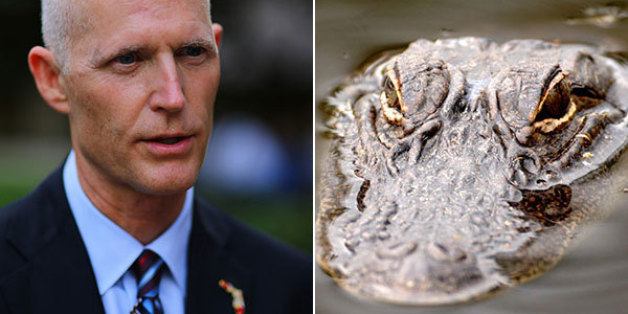 Florida Gov. Rick Scott (R) is turning to one of Florida's signature animals to help boost his reelection fundraising efforts.
SaintPetersBlog reported Monday that Scott is holding an Oct. 18 "private gator hunt" in New Smyrna Beach, Fla. He is running for reelection in 2014, and the cost for this event will be $25,000 per person.
According to the Florida Fish & Wildlife Conservation Commission, an alligator hunting permit costs $272 for residents. Around 10,000 applications come in each year, with 5,000 being accepted. Each person who receives a permit is allowed to hunt two alligators.
Back in April 2011, Scott stressed that Florida was the ideal spot for hunting. But alligators were not high on his list of creatures.
"My least favorite though is our alligators," Scott told the AP, according to the Miami New Times. "I don't want to be close to them that much."
BEFORE YOU GO
PHOTO GALLERY
Rick Scott Controversies