A Sauk Village, Ill. woman stabbed her teen son to death during an apparent argument over ice cream, Cook County prosecutors said Monday.
Robin Erwin, 31, is charged with first-degree murder after police say she stabbed her 17-year-old son Diontae Erwin in the heart Saturday afternoon in their suburban home about 30 miles south of Chicago. The teen was pronounced dead at an area hospital less than an hour later.
In court Monday, the woman was on $750,000 bond.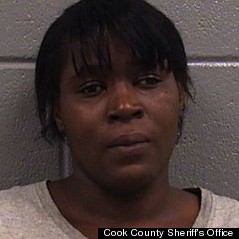 Robin Erwin has been charged with first-degree murder. (Cook County Sheriff's Office photo)
Robin Erwin told police her son had walked into a knife she was holding, prompting her to call 911, the Sun-Times reports. The coroner's office later found her statement to be "inconsistent with medical findings," prompting prosecutors to seek murder charges.
Larry J. Gray, 21, was also arrested at the home for violating his parole on a conviction for unlawful use of a weapon. The Northwest Indiana Times reports police seized 130 grams of marijuana during the arrests, but said it was unclear what relationship, if any, existed between Gray and Robin Erwin.
Meanwhile, neighbors said the family's home had been the site of several disturbances since they moved in about 18 months ago. Friends of Diontae, a high school senior, also mourned their friend's death.
"He was like a brother to me," friend Darion Jackson told ABC Chicago. "When he died, that just shut me down. I couldn't think. It just really hurt."
BEFORE YOU GO
PHOTO GALLERY
Bad Parenting