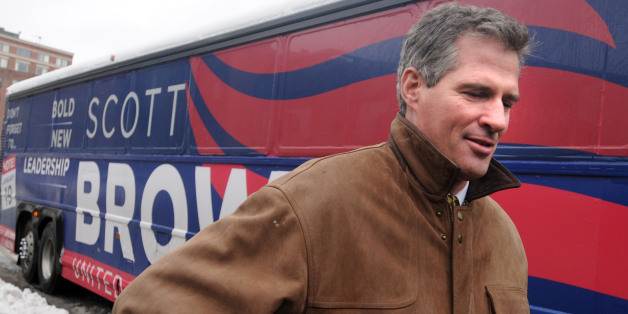 Since leaving office, former Sen. Scott Brown (R-Mass.) has kept plenty busy. His latest venture involves a company associated with manufacturing guns.
The Boston Globe reported Tuesday that Brown has been hired as a consultant for Global Digital Solutions, Inc -- a company that describes itself as " a leader in providing small arms manufacturing, complementary security and technology solutions and knowledge-based, cyber-related, culturally attuned social consulting in unsettled areas."
"We're thrilled to have someone with Scott Brown's national stature and extensive government experience on our advisory board," Richard J. Sullivan, the chief executive of Global Digital Solutions, Inc., said in a Monday news release. "Scott's leadership roles at both the state and federal levels – with a consistent focus on security-related issues – and his longtime service in the Army National Guard give him great perspective, experience and relationships that will be very helpful to GDSI going forward."
According to the release, one of Brown's roles will be to help Global Digital Solutions, Inc. in its merger with Airtronic USA, Inc. an Illinois arms manufacturer that produces machine guns, rifles and magazines.
"I see a great deal of upside potential for the GDSI and Airtronic combination and I applaud Dick Sullivan and the entire GDSI team for their bold strategic vision," Brown said in a statement. "It's vitally important to me that we're boosting US manufacturing and security while addressing issues related to job creation, innovation and advanced cyber technology."
Outside of politics, Brown joined Fox News as a contributor in February, and Kadant Inc. paper as a member of its board of directors during the same month. By March, he became part of the law firm Nixon Peabody.
As for a return to politics, Brown's name has been floated in several races. Earlier in 2013, he passed on a run for the U.S. Senate seat vacated by Secretary of State John Kerry, and also decided against a 2014 run for Massachusetts governor. Regarding the 2016 presidential election, Brown said in August that he was exploring a run.
BEFORE YOU GO
PHOTO GALLERY
Senators Who Voted NO On Background Checks