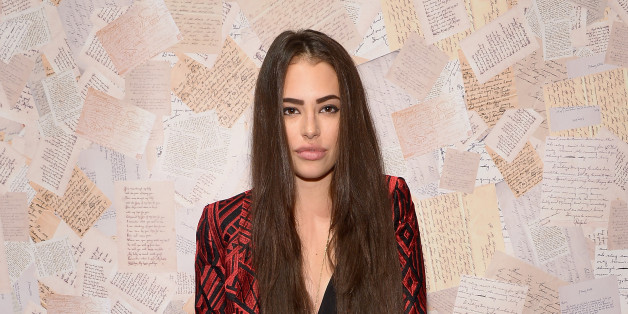 Earlier this year, screenwriter Kelly Marcel, who has been tasked with adapting E L James' "Fifty Shades of Grey" for the big screen, promised that the forthcoming film would be true to the nature of the raunchy novel and offer an NC-17 rating. A recent look at the audition script for the "Fifty Shades of Grey" movie suggests that Marcel is likely keeping her promise.
Actress Chloe Bridges ("The Carrie Diaries") recently revealed to Cosmopolitan that she was in the running for a role in the film, taking an early look at three pages of script sides for an audition. "I read them and then was like, I really can't do this," Bridges told the publication. "If you read these three pages of sides, you would die. I still like show them to my friends for fun."
One thing in particular stood out to Bridges: the sample pages used the word "sperm" multiple times "in a very sexual way." "The scene was, like, the girl telling her friends about some sexcapade she had, but it goes into extreme detail and uses the word 'sperm' a couple times," Bridges told Cosmopolitan. "I was like, I don't know guys, I have to go home to my grandparent's house in a few months at Christmas, I don't know if I can do this."
While Bridges was not cast in Sam Taylor-Johnson's film, the script sides were apparently just right for Charlie Hunnam ("Sons of Anarchy") and Dakota Johnson ("Ben and Kate") who signed on for the two lead roles. Hunnam will play the businessman Christian Grey, who becomes involved in a kinky sexual relationship with Johnson's Anastasia Steele.
"As soon as we got in the room and started reading with Dakota, I knew that I definitely wanted to do it," Hunnam recently told THR about his costar. "There was a tangible chemistry between us."
Though the pages that Bridges saw do seem in line with the content of "Fifty Shades of Grey" and the vision that James, Marcel, and Taylor-Johnson have for the film, the scenes are likely not finalized and may not make the shooting script. The "Fifty Shades of Grey" movie is scheduled to hit theaters on Aug. 1, 2014.
[via Cosmopolitan]
PHOTO GALLERY
23 Major Roles That Almost Went To Other Actors
BEFORE YOU GO