Celebrated hip hop DJ, Mister Cee, has officially resigned from New York radio station Hot 97 amid new solicitation allegations after being recorded giving $100.00 for unspecified services to a cross-dressing male named, "Bimbo Winehouse."
In recent years the 46-year-old DJ, whose real name is Calvin Lebrun, has made headlines after being arrested for allegedly soliciting male prostitutes. The most recent internet allegation prompted Lebrun to take to the airwaves today to announce his resignation from the station.
"I went through a lot in the past two years with certain situations that I've been through and I have tried to rise above those situations," he said. "I have tried to move forward from the situations that I've been through. And unfortunately, every time I tried to move forward, it's like I take one step forward and then two steps back. And I'm hurting the people that are closest to me, which is my Hot 97 family."
"Anybody that knows me, knows that I love doing this radio thing," he continued. "I've been here at Hot 97 since 1993 and I live, breath, sleep radio. And the last thing that I want to do is hurt the Hot 97 family. So I have decided, not Ebro [Hot 97 Program Director], not management, nobody. Me, Mister Cee, I have decided that it's time for me to move one. And it's time for me to take time out for myself to take care of myself."
Upon Cee's announcement, Hot 97 released the following statement regarding his abrupt departure;
"Due to some personal circumstances that have become public, after 20 years of service, Mr Cee has chosen to resign. We feel that this is in the best interest of both HOT 97 and Cee's personal well-being. While we do not endorse the alleged activities, he is clearly facing a personal dilemma that is for him and only him to comment on. We are saddened by his departure; his contributions here at HOT 97 were great and we know him as a friend, a caring individual and significant hip hop advocate. We wish Mr Cee the best and will always consider him a family member of HOT 97.

Moments ago, he officially signed off, on the air and will finish out his last show today on September 11, 2013, an already sad day for New York City."

- Alexandra Cameron, SVP/General Manager of HOT97
In addition to fulfilling his duties as one of Hot 97's most popular on-air personalities, Cee has also worked alongside legendary rappers Big Daddy Kane and The Notorious B.I.G. as their personal DJ.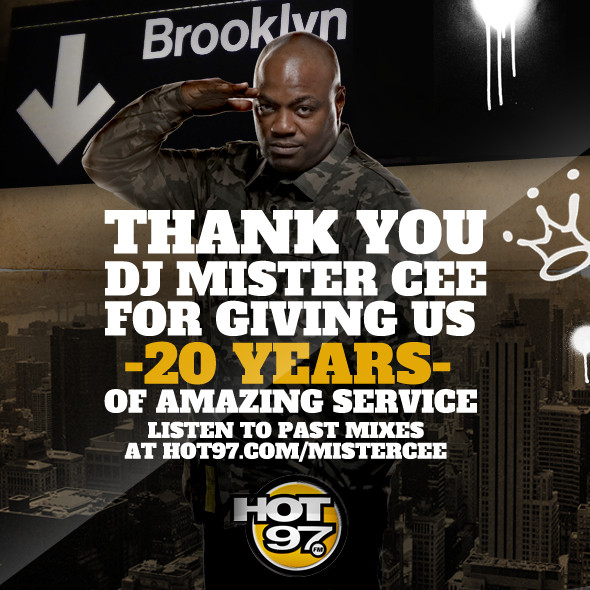 BEFORE YOU GO
PHOTO GALLERY
Hip-Hop Fitness Heavyweights