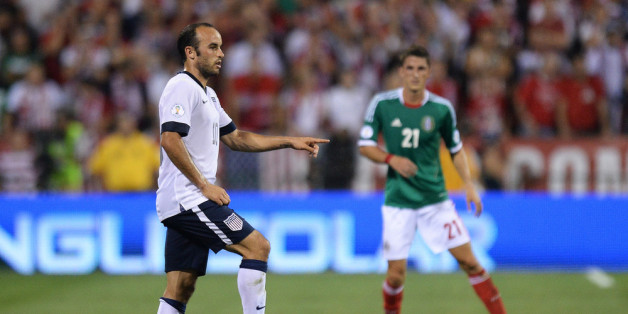 Landon Donovan delivered a dream performance as the United States clinched a berth in the 2014 World Cup. Nevertheless, the sight of him -- and the reason for his impaired sight -- might end up giving U.S. soccer fans nightmares.
Donovan took the field at Crew Stadium in Columbus, Ohio for a crucial World Cup qualifying match against Mexico on Tuesday night with something appearing quite wrong with his right eye. He had apparently avoided the U.S. media a day before the match due to an eye infection, according Roger Bennet of ESPN. He certainly didn't look particularly healthy by kickoff.
Landon Donovan's eye : intimidation factor #USAvMEX pic.twitter.com/iyQ0CQh5l7

— Dan Sudkamp (@DanSudkamp) September 11, 2013
Landon Donovan's eye is not OK. #USMNT pic.twitter.com/1SfU1SDvjT

— Cork Gaines (@CorkGaines) September 11, 2013
Not long after Donovan's irritated eye was shown during the ESPN broadcast, it turned up on Twitter. Aside from being the focal point of conversation, the eye soon had its own account.
Could use some drops. Gotta cross it! @MLS_Analyst #usmnt #USAvsMexico

— Landon Donovan's eye (@landonseye) September 11, 2013
Impaired vision or not, Donovan assisted the first U.S. goal and scored the second in the 2-0 win over Mexico. After the game, he seemed to be following doctor's orders -- and hydrating -- as the team celebrated its World Cup spot.
(GIF via @dhm)
Get well soon!
BEFORE YOU GO
PHOTO GALLERY
PHOTOS: U.S. vs. Mexico World Cup Qualifier