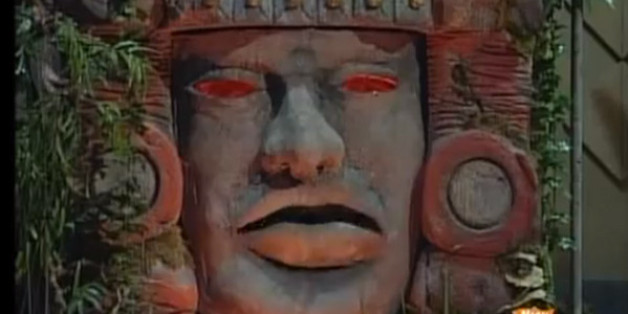 Children of the '90s, are you ready to feel old? "Legends of the Hidden Temple" premiered 20 years ago today on September 11, 1993. It's safe to say it was one of the most awesomely bizarre game shows of a generation.
Kirk Fogg hosted the Nickelodeon game show for three seasons. Dee Bradley Baker served as announcer on the show and voiced Olmec, the talking stone face. Baker's done a ton of voicework since "Legends" with roles on "Young Justice," "American Dad" and "Phineas and Ferb." Fogg went on to appear in the "Veronica Mars" pilot and wrote, starred in and directed "Distortion" in 2006. Besides Olmec, "Legends of the Hidden Temple" was known for two things: The Shrine of the Silver Monkey and the Temple Guards.
The Shrine of the Silver Money was a puzzle that contestants notoriously had trouble completing.
In an interview with College Humor in 2007, Fogg addressed the Silver Monkey struggles. "[T]he damn thing was hard to put together. Feet-belly-head sounds easy but putting them facing out was kind of difficult when the clock is ticking, your about to throw up, and there are psychotic Temple Guards on the loose," he said.
The Temple Guards came out during the Temple Run, popping out of hiding places to grab contestants. If the contestant had a pendant, the kid could give it to the Temple Guard to save themselves, otherwise they were taken out of the game by the Guard.

[via]
Relive your childhood with an episode of "Legends of the Hidden Temple" below.
BEFORE YOU GO
PHOTO GALLERY
Critics Picks 2013-2014