Unless you're a study abroad student or a wealthy jet-setter, chances are you don't have the time or money to hop over to Munich for Oktoberfest.
But that doesn't mean you can't enjoy beer, bratwurst and all the accompanying festivities. There are plenty of places to celebrate the fall festival in the United States -- meaning you can party without the hassle and cost of a trip to Europe.
This year, the Munich Oktoberfest will be held from Sept. 21 to Oct. 6 -- preparations are already underway in Germany. But stateside, Oktoberfest celebrations can be found throughout the early autumn months. While some are longer, many of the festivals are weekend-long, making them perfect quick getaways.
Check out the Oktoberfest options below and let us know which ones you'll be checking out!
For a New England celebration...
An all-American beer celebration gets some German flair at the Harpoon Brewery Octoberfest in Boston. The two-day celebration has been around for 23 years now and includes German food, three stages of musical performances, keg bowling, chicken dances, and, of course, plenty of Harpoon. The celebration will be held Oct. 4-5.
If you can't make the Boston celebration, Harpoon's Vermont brewery will host a smaller version of the festival the following weekend (Oct. 11-12).
For a Midwestern celebration... To attend America's largest Octoberfest, head to Cincinnati for Oktoberfest Zinzinnati. The festival has been celebrating the German heritage of southwest Ohio with music, food and beer since 1976. Last year the celebration welcomed more than 500,000 revelers. This year Oktoberfest Zinzinnati will be held Sept. 20-22.
If you can't make it that weekend -- or just are an Octoberfest junkie -- Ohio won't let you down. Another renowned celebration will be held in Columbus Sept. 27-29. The Columbus Oktoberfest is a German extravaganza that's fit for the whole family. Kids will have their fun at the Kinderplatz and adults can eat, drink and be merry.
For a West Coast celebration...
Big Bear Lake Oktoberfest in California's San Bernadino Mountains can't be missed. Literally. It runs for seven weekends, beginning Sept. 14 and wrapping up the weekend of Oct. 26. The event will feature three biergartens, musical entertainment and a packed calendar of events.
Saturdays, the party runs from noon to midnight, so you can spend twelve straight hours guzzling beer. Sundays are family day, with free admission for children under 12 years old, kids' contests and plenty of activities to keep them happy while you sample the array of domestic and German beers.
If you're heading west for Oktoberfest, make sure to also check out Alpine Village Oktoberfest, which runs every weekend between Sept. 13 and Oct. 27. Alpine Village mixes the modern -- "Club Berlin Indie Rock Dance Party" and happy hours -- along with traditional Oktoberfest staples.
For a Southern celebration...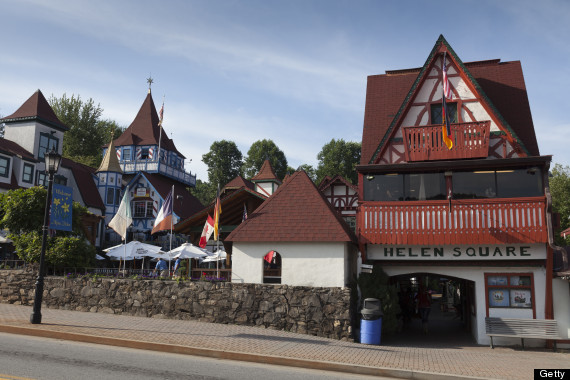 Helen, Georgia, is a faux Bavarian town tucked away in the Appalachian Mountains. So it only makes sense that the town hosts a great big Oktoberfest.
This year's 43rd Annual Oktoberfest will kick off the weekend of Sept. 12-15. Then the festivities continue every day from Sept. 19 through Oct. 27. So there's no excuse for missing out on the fun. Helen's Oktoberfest is the longest-running in the United States. A good time is pretty much guaranteed, with German-style bands, cowbells, accordions, polka-dancing, beer-drinking and bratwurst-eating.
Where will you be heading for Oktoberfest this year?
BEFORE YOU GO
PHOTO GALLERY
Oktoberfest 2012