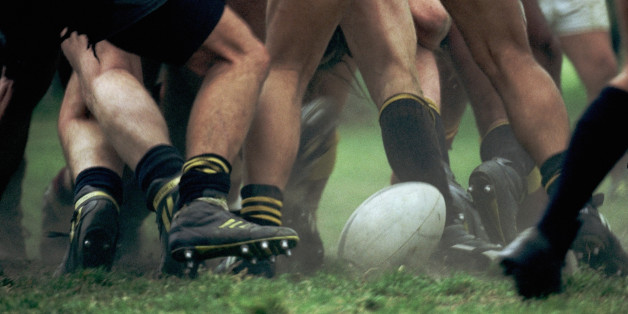 After losing by more than 180 points in what is now being touted as a "record-breaking" defeat, a Welsh rugby team says it hopes to turn its newfound infamy as "biggest losers" into a win.
According to the BBC, Holyhead Rugby Football Club, a third division team in the Welsh Rugby Union, was crushed 181-0 by Llanidloes RFC over the weekend. Holyhead is said to have, on average, conceded a point every 26 seconds during the game. The loss is believed to be a Welsh record.
In defense of the team's performance, club representative James Hart told the Daily Post that Holyhead had been at a disadvantage on game day as the squad had largely been composed of younger, more inexperienced players. He also said that only 13 members of the team had made it to the away game, so their opponents had two more players on the field than they did.
"[W]e only had five senior players. The rest were 18-year-old youth players," Hart told the Post. "It was their 15 players to our 13. The score is a reflection of that really."
Hart added that the Holyhead players had been "shell-shocked" by the staggering defeat. Still, despite the huge loss, the team is said to be focusing on the positives.
"At least there is only one way we can go after a defeat like that – up!" Holyhead chairman Emyr Williams told Wales Online.
Club president Oliver Williams said the defeat may be just what Holyhead needs to get motivated.
"I think we'll look back on this result at the end of the season and realize it was a blessing in disguise," he told the BBC, adding: "Plus they say all publicity's good publicity, and now we're all over the papers and the internet then who knows, maybe we'll attract some more interest and new players."
Indeed, since Holyhead's mammoth loss over the weekend, the club has reportedly won the attention -- and support -- of a number of influential people.
According to the Daily Post, Rupert Moon, a former member of the Welsh national rugby team who has been tasked by the Welsh Rugby Union to help develop the sport in North Wales, has offered his support to the club, as has the English professional rugby union team Saracens.
Saracens has reportedly invited Holyhead to come to London, where it's based, to train with the team.
"We could never have expected this kind of publicity in any other way, but we can turn this into a positive for the club," Hart told the Post. "The offers from people like Rupert Moon and Saracens are very flattering and humbling."
BEFORE YOU GO
PHOTO GALLERY
Best 2013 Sports Photos