In an age where mile-high airfares have become the norm, largely due to rising fuel costs, which airline is the most fuel-efficient?
Apparently, those booking through Alaska Airlines are traveling the furthest on a gallon of jet fuel, according to a new study conducted by the International Council on Clean Transportation.
The report examines the fuel efficiency of 15 of the largest airlines in the U.S. An efficiency score of 1.00 corresponds to the industry's average fuel economy in a given year. Take a look at the chart below to see if you're with the right frequent flyer program: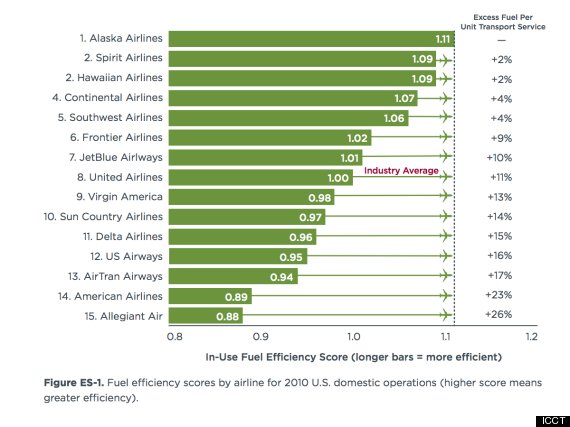 Low-cost Allegiant Air took the bottom spot, with fuel efficiency 26 percent lower than Alaska, possibly due to the carrier's particularly old fleet of McDonnell Douglas aircraft. Nearly a third of the variation in efficiency can be attributed to aircraft technology, the study found. Other factors include seat density, cabin occupancy and ground operation practices.
Grounded airplanes traditionally use their engines to cool or heat cabins. Seattle-Tacoma International Airport announced plans for a revolutionary "central air" system that would pre-cool air for grounded planes. The measure is expected to save more than $15 million a year in fuel and cut CO2 emissions by 40,000 metric tons.
The data for the study was gathered from 2010 fuel-consumption reports given to the U.S. Bureau of Transportation Statistics. 2010 was chosen because it provided "a useful base year — post–global recession, prior to major mergers."
BEFORE YOU GO
PHOTO GALLERY
10 Hot Green Innovations