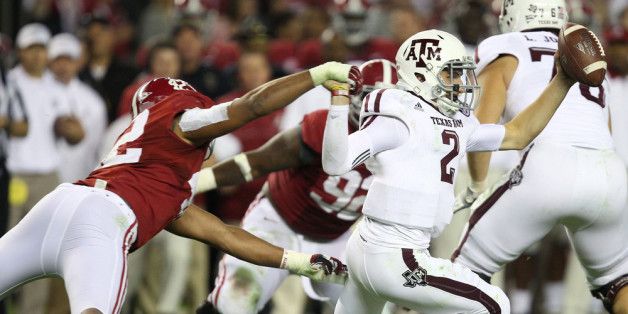 Want to see Alabama attempt revenge against Johnny Football and Texas A&M in person on Saturday? Dig deep.
The game has exceeded demand for last week's marquee Packers-49ers NFL matchup and is the third-most popular event of any kind in the world on StubHub this week, the major ticket reseller told The Huffington Post on Thursday.
Overall sales and page views for tickets on StubHub have already tripled over last year's Alabama-Texas A&M game, won by the Aggies in an upset, according to the site.
Sales for Saturday's game could be history-making. StubHub said the median price was $550, nearly $100 higher than tickets for the so-called Game of the Century in 2011 between Alabama and LSU. But there could be a drop before Saturday, a spokeswoman said, because prices tend to dip at the last minute.
Forbes.com reported that tickets on TiqIQ.com, another secondary market outlet, were averaging $763, which would make the rematch the most expensive regular season college football game ever.
However, ESPN wrote that tickets averaged $857 on StubHub for the 2006 regular season game between No. 1 Ohio State and No. 2 Michigan.
Regardless, any fan will likely be parting with big money to attend Saturday's game at A&M's Kyle Field in College Station. On the flip side, some of the lucky ones who already have tickets are trying to turn a serious buck. One was asking $5,555 on StubHub for the upper level.