Twenty-one people in New Hampshire have fallen sick from salmonella infection, prompting a recall of Joey's Jerky brand chicken jerky, a dog treat that health officials suspect is linked to their illnesses.
"While uncommon, pet food and treats can sometimes be contaminated with Salmonella, which is why it is so important for pet owners to wash their hands after handling pet food and treats," Dr. Josᅢᄅ Montero, public health director of the New Hampshire Department of Health and Human Services, said in a statement.
The illnesses were reported in Merrimack and Hillsborough counties; all of the people who fell ill had the same strain of salmonella. Laboratory testing is currently underway to confirm that the dog treats are the culprit.
The dog treats suspected to be involved in the salmonella outbreak were sold at six stores in New Hampshire:
- America's Pet in Hudson
- Blue Seal in Bow
- K9 Kaos in Dover
- Osborne's Agway in Concord
- Sandy's Pet Food Center in Concord
- The Yellow Dogs Barn in Barrington
New Hampshire health officials are advising people who may have the treats in their homes to throw them away.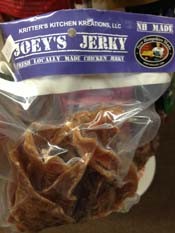 Salmonella infection is relatively common, with most cases not requiring any medical intervention. Symptoms usually occur within the first eight to 72 hours, and manifest with diarrhea, cramps, vomiting and nausea, chills and fever, according to the Mayo Clinic. These symptoms can last four to seven days.
However, serious cases could trigger complications that can turn life-threatening. For instance, the infection could potentially lead to extreme dehydration or bacteremia (infection that enters the bloodstream), the Mayo Clinic said.
BEFORE YOU GO
PHOTO GALLERY
Kinds Of Food Poisoning You Should Know About (And Avoid)