After publishing an ad that implied its shoes enabled owners to run their dogs to death, Pearl Izumi ran into plenty of backlash.
Now the brand has attempted to escape the doghouse with an apology: "We made a mistake," it wrote on Facebook.
(The story continues below the image.)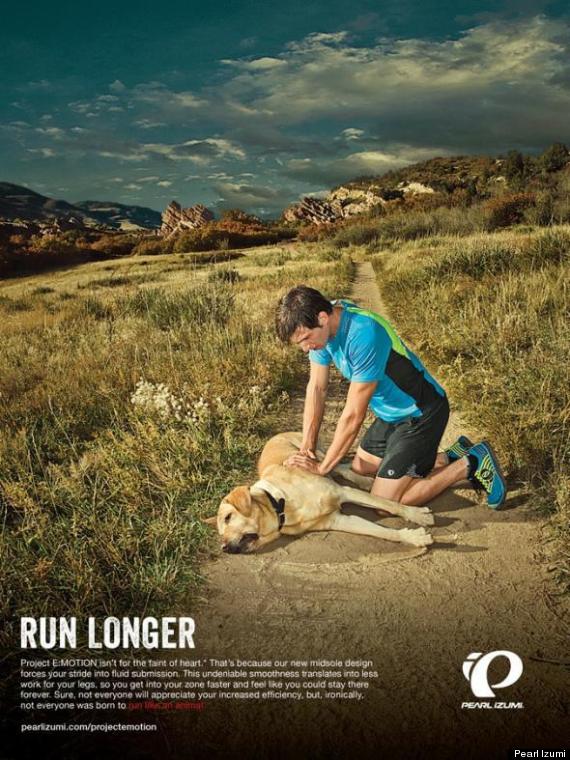 The ad, featured in Canadian Running magazine, shows a runner in Pearl Izumi shoes performing CPR on what appears to be a dead dog. Underneath the image are the words, "RUN LONGER," followed by an explanation on how the shoe's design makes the wearer's strides smoother.
"Sure, not everyone will appreciate your increased efficiency," part of the copy reads.
"That was horrifying to me," Julie Mierau of Omaha, Neb., said in an NBC News story. "It's offensive to me as a dog lover … that the message is these shoes will make you run so hard you'll kill your dog."
Social media consultant Mike Johansson explained to the network that the ad's imagery is "inherently upsetting" and that corporations often forget to consult with "regular folks" on its marketing.
To make further amends, Colorado-based Pearl Izumi also donated $10,000 to the Boulder Valley Humane Society and pulled the ad.
"PETA hates the ad, loves the donation to the humane society, and calls for a make-up ad that champions animal rights, this time with a pound pup, too," PETA President Ingrid Newkirk told The Huffington Post.
Many on Pearl Izumi's Facebook page thanked the company for its apology, but one aggrieved individual perhaps felt the company was merely throwing a bone to the offended.
"One idiot can be excused for an indiscretion or poor judgment," the commenter wrote. "It takes a concentrated team of all idiots, moving in unison and agreement to make a blunder like this. Generally, I don't trust a company with that many idiots employed to make a quality product, so....buh-bye."
What do you think of the ad? Leave your thoughts below.
BEFORE YOU GO
PHOTO GALLERY
Animals In The News