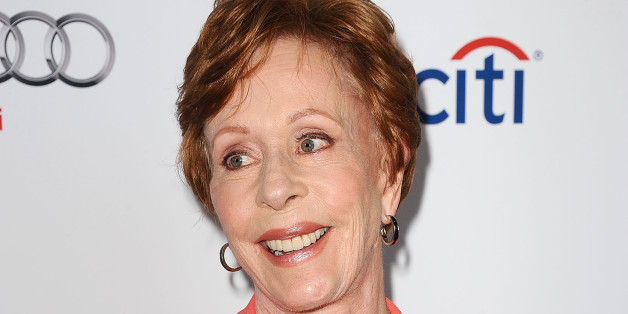 Carol Burnett joins a cast of Hollywood stars in Los Angeles on Sept. 25 for a special ensemble reading of Act 1 of "Surviving Grace," an original play by comedy writer Trish Vradenburg ("Designing Women," "Family Ties," "Kate and Allie"), and co-founder of USAgainstAlzheimer's -- a national advocacy organization committed to stopping Alzheimer's by 2020. The reading is a fundraiser for the organization.
The play is based on Vradenburg's experience as a caregiver to her mother who died of Alzheimer's in 1992. Reviews describe "Surviving Grace" as an honest, irreverent and moving look at the emotional ups and downs that 15.4 million Alzheimer's caregivers go through each day in the U.S.
Carol Burnett, who plays the mother, is joined on stage by Marilu Henner, Loni Anderson, Helen Reddy, Elliott Gould, Lou Gossett, Jr and Brian MacNamara.

Alzheimer's disease, for which there is no cure, affects one in three seniors. The number of Americans with the disease is projected to triple by 2050 -– from 5.4 million to nearly 16 million. Ten percent of victims are between the ages of 40 and 65.
The Huffington Post interviewed Carol Burnett, 80, about her role and the importance of this project.
HP: Do you have a personal interest in Alzheimer's -- something in your own life that gave portraying the mom special significance?
Burnett: Maybe the fact that I just turned 80?! No, fortunately no one close to me has been touched directly by Alzheimer's, but that doesn't diminish the fact that I see it as a an extremely frightening disease. It has got to be scary for the person afflicted and for those who love that person, it's like having to experience their death twice -- once when they're 'gone' but not gone, and then again when they really are.
HP: It's been said that we are headed toward an Alzheimer's "epidemic" as the population ages. Can you discuss what you think should be done to prepare for it?
Burnett: I'm not particularly political on this, but I hope we are combatting this awful disease with as much research and hope for a cure as we do cancer and heart disease. As we age, the liklihood exists that more of us will have a family member and/or a loved one with Alzheimer's.
HP: How hard was it for you to play the role of the Mother with Alzheimer's?
Burnett: Well, I haven't played it yet! But when I read the play, I instantly loved it. When Trish sent it to me, I thought it was kind of amazing. I mean, it's a comedy -- there is a lot of humor in it -- and yet you see the toll that Alzheimer's has on not just the mother, but also the daughter. It just so beautifully captures the back and forth in the relationship between the mother and the daughter. They have a kind of wonderful relationship, a crazy wonderful sometimes passive-aggressive very honest relationship. I loved the whole dynamic of it.
HP: How do you prepare for a role -- a reading -- like this?
Burnett: As for preparing for it, I read it and read it and read it and then I may do it differently when we all get together. For something like this -- for life actually -- you have to be in the now and you don't need to do a heck of lot of pre-production things.
HP: At 80, what are your own worries and concerns about aging?
Burnett: The usual suspects. I really try to live one day at a time. I eat well, exercise, am in really good shape. I just try and live in the present and not worry about what might be around the corner.
HP: Our readers tend to be on the younger side of the baby boom generation and many are caregivers for both their children and their parents. What message would you send to those in this "sandwich" generation of caring for others?
Burnett: Alzheimer's is a family disease. I think a lot depends on how well off the family is. Caregivers need breaks from caregiving 24/7, and it takes a lot of money to take care of someone. My heart is full for those who have to do it for a loved one and can't afford it. They are making so many sacrifices.

HP: Boomers have lots of worries about the aging process. Is Alzheimer's at the top of your list? Why/why not?
Burnett: No, it is not at the top of my list. Nothing is; I don't have a list. I don't like to dwell on any of it. Of course it's a concern, just as the possibility of cancer or having a heart attack is a concern. But if you constantly dwell on your fear of illness, what kind of life do you have each day? You can't live waiting for the other shoe to drop.
HP: You used to end your show by tugging on your left ear, which was a message to your grandmother who raised you and let her know you were doing well and loved her. Even after she died, you continued the tradition of tugging your ear. Can you explain?
Burnett: The thing about Grandma, she was sharp right up until the end. She took care of herself. One thing she did all the time was walk everywhere; we didn't have a car. She was a terrific woman, she was funny, had a great attitude about living and she taught me a lot. I always knew she was there. She was fiercely protective of me.
When she died at 81, she had a 40-year-old boyfriend -- a jazz musician in Redondo Beach! And I learned after she died that she actually had six husbands -- I knew about three! I hope there is an afterlife so I can ask her about them.
HP: So at 80, tell us about what your life now is like.
Burnett: Well, I live in southern California. I take my one-woman 90-minute show on the road a bunch of times a year. This is my improv show where I take questions and just answer them on the spot for 90 minutes. I think it's great for your brain because it forces you to be in the moment. I can't be thinking of yesterday or tomorow. I've done eight so far this year and have two more this month. I also am doing a night in Las Vegas and then will be going to Honolulu for a guest shot on "Hawaii 5-0."

BEFORE YOU GO
PHOTO GALLERY
Carol Burnett