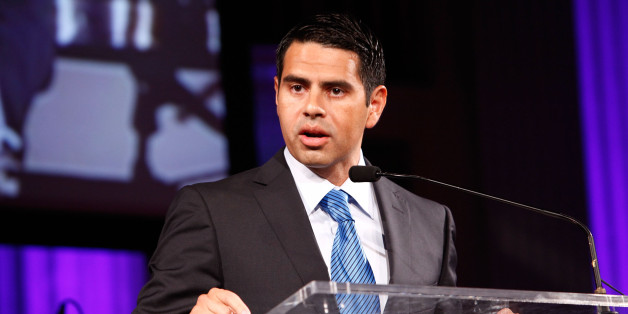 Univision says adios, the competition says hello.
The Spanish-language network's president, Cesar Conde, announced his departure on Friday morning, the Los Angeles Times reports. Hours later, NBCUniversal announced the 39-year-old businessman would join the company as Executive Vice President.
Univision's press release announced that Conde, who was appointed president in 2009, had resigned to pursue opportunities in English language media without stating specifics. After over ten years at the Spanish-language media giant, the Peruvian executive now heads to the parent company of its biggest competitor -- Telemundo.
NBCUniversal created the role for Conde and will have him focus on "strategic priorities and special business projects," according to the company's press release. As Executive Vice President, Conde will also oversee the company's International Group.
"Cesar is an impressive business executive with both traditional and emerging media expertise," NBCUniversal's Chief Executive Officer, Steve Burke, said in the press release. "His experience leading multiple domestic and international businesses will be instrumental in maximizing all the opportunities to grow our portfolio."
Univision beat out English-language networks like ABC, CBS, NBC and FOX in prime time ratings for the first time in July. With Conde's departure, the network also announced a "reorganization of the Univision Network team" which will have President of Programming and Content Alberto Ciurana, President of News Isaac Lee, and President of Univision Deportes Juan Carlos Rodiguez report directly to CEO of Univision Communications, Inc Randy Falco.

BEFORE YOU GO
PHOTO GALLERY
Dumbest Commentary About Latinos In 2012