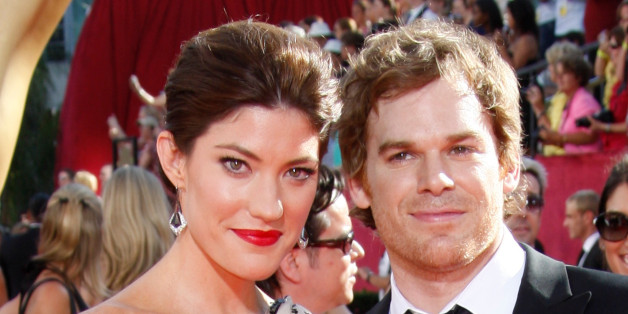 Think it was awkward for "Dexter" stars Michael C. Hall and Jennifer Carpenter to work together on the Showtime series after their 2011 divorce?
Think again. At a Paley Center for Media panel about the show in Los Angeles Thursday, Hall and Carpenter were asked to sum up the experience of working side-by-side after their divorce.
"It's gratifying, honestly," Hall said of their work on the show, which wraps its eighth and final season on Sept. 22.
"The fact that Jennifer and I worked through whatever was going on with us personally in the way we did and maintained our commitment to telling this story was never in question," he added. "It was always what we needed and wanted to do."
Carpenter had equally kind things to say about her ex-husband.
"I feel like marriage is sort of like a generic label," the actress said. "Our marriage didn't look like anyone else's. And our divorce didn't either. So, I've said it before and we've said it before. Just because the marriage ended doesn't mean the love did. It's an awkward thing to talk about your personal life in front of a bunch of strangers, but there's nothing but love and respect. Nothing."
This isn't the first time the couple, who finalized their divorce in December 2011 after two years of marriage, has opened up about their post-split relationship. At a press conference in November 2012, Hall said that though he and Carpenter had "been through quite a journey in [their] personal life" there remained "a fundamental friendship and respectful" between the pair.
Click through the slideshow for more on the "Dexter" exes and others TV co-stars who split:
PHOTO GALLERY
Divorced Co-Stars
Keep in touch! Check out HuffPost Divorce on Facebook and Twitter.