Though New York Fashion Week is but a mere eight days, so much happens in that short amount of time. Hundreds of shows are put on, millions of street style photos are taken and countless editors can be found sprinting around the city.
In all the madness, it's easy to miss some of the most important moments. But don't worry, we've got you covered. To help jog your memory, we've put together a list of the 19 most important things that happened during New York Fashion Week. Happy end of Fashion Week, y'all!
1. Kenneth Cole is still insensitive. The designer sent out a tweet at the beginning of Fashion Week making light of possible military action in Syria by mocking the phrase "boots on the ground," (which has been used by President Barack Obama with regard to sending in ground troops). Sadly, this is not the first time the designer has gotten into hot water using conflicts in other parts of the world to sell clothes -- we all remember the Cairo incident.
"Boots on the ground" or not, let's not forget about sandals, pumps and loafers. #Footwear

— Kenneth Cole (@KennethCole) September 5, 2013
2. Naomi Campbell is still on top of her game. The famous '90s supermodel closed the show at Diane von Furstenberg.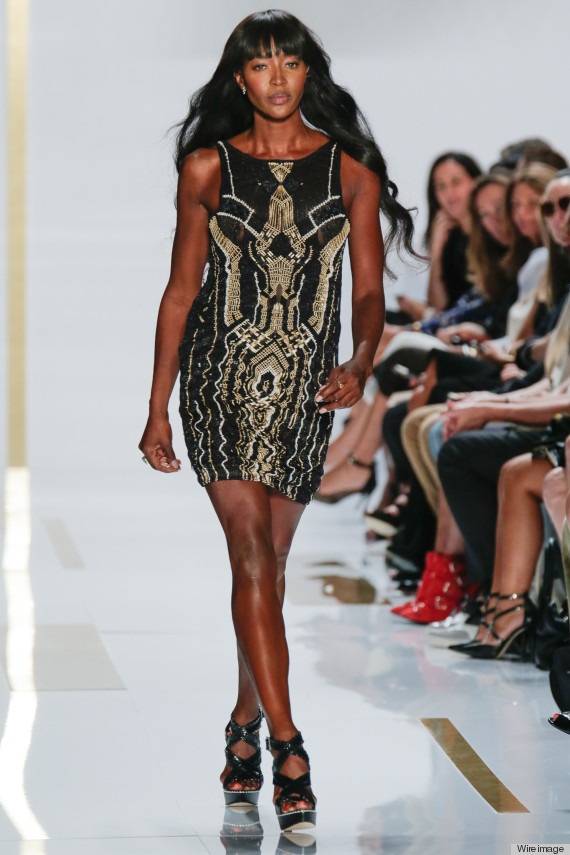 3. The Jonas brothers are into fashion now? Nick, Joe and Kevin Jonas kept popping up at various Fashion Week events (like front row at Richard Chai and at the Prabal Gurung after party). LOL.
PHOTO : Nicki Minaj with the Jonas Brothers and SB at Jeremy Scott Fashion Show in NYC pic.twitter.com/Q3ok1krsT7

— Indonesian Barbz (@NickiMINDO) September 12, 2013
Jonas Brothers front row at Richard Chai pic.twitter.com/IUIpfW8XB7

— AP Fashion (@AP_Fashion) September 5, 2013
Jonas Brothers at Prabal Gurung After Party last night pic.twitter.com/HXrVTZWPbz

— JB (@JoeJonasArmy) September 8, 2013
4. Taylor Momsen emerged from wherever she had been hiding. The actress-turned-rocker attended shows like Helmut Lang. But don't worry, not much else has changed, she still looks like a mall goth (sorry, we're not sorry).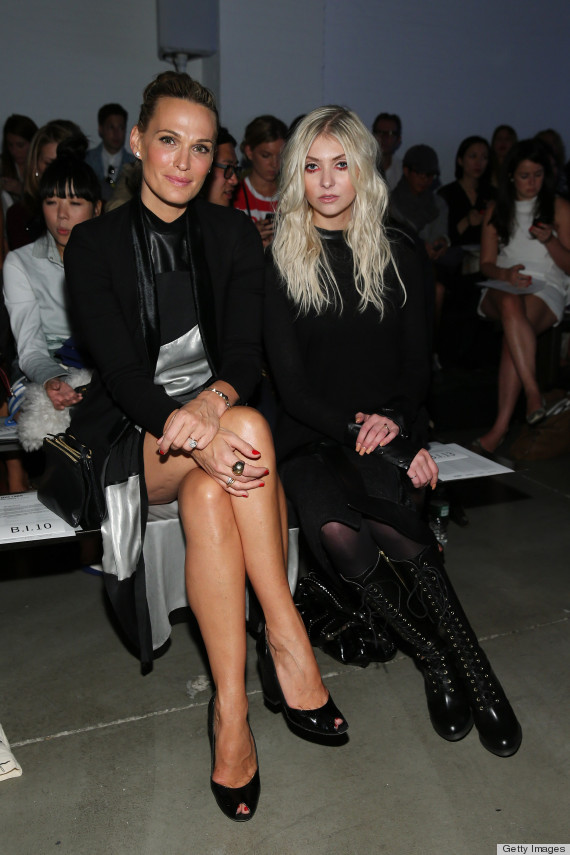 5. Mary-Kate and Ashley Olsen let down their guards. The extremely private mega-stars were seen smiling and chatting with their guests at their exclusive runway show for The Row.
6. There were gasps at Tory Burch. As the American designer sent her Spring 2014 collection down the runway, audible gasps could be heard from editors in the front row. Her latest designs (inspired by Romy Schneider in the 1969 French movie "La Piscine") is being heralded as brilliant, especially thanks to the unique accessories.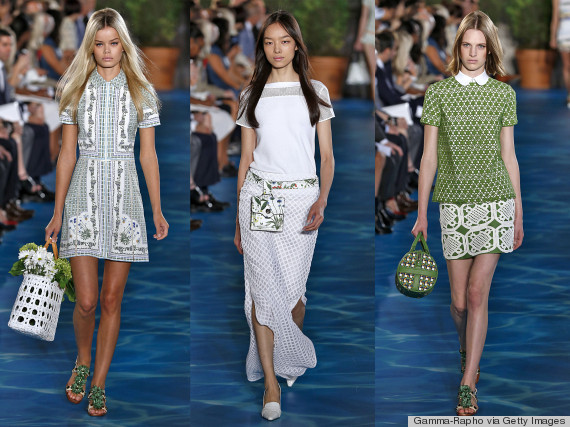 7. Harper Beckham stole the front row spotlight. Move over Anna Wintour, there is a new front row star in town, Harper Beckham. The 2-year-old sat on her dad's lap while she watched her mama's show.
8. Some things never change. Anna Wintour can still be seen sprinting out of runway shows everywhere. And we caught the editor-in-chief of Vogue in action at Rag & Bone.
9. Opening Ceremony held it's first New York Fashion Week runway show. The cult fashion brand had it's first ever runway show, and in true OC style, it did not disappoint. Models could be seen getting out of Lamborghinis and Porsches, and every attendee received a Cronut in their gift bag.
I am forever grateful to Opening Ceremony. I have finally tried a cronut! A real one! Check your gift bags

— Tommy Ton (@JakandJilBlog) September 9, 2013
10. Oh, and Bieber was in attendance. Though Opening Ceremony and Justin Bieber may not seem synonymous, the singer showed up at their runway show, causing quite a buzz.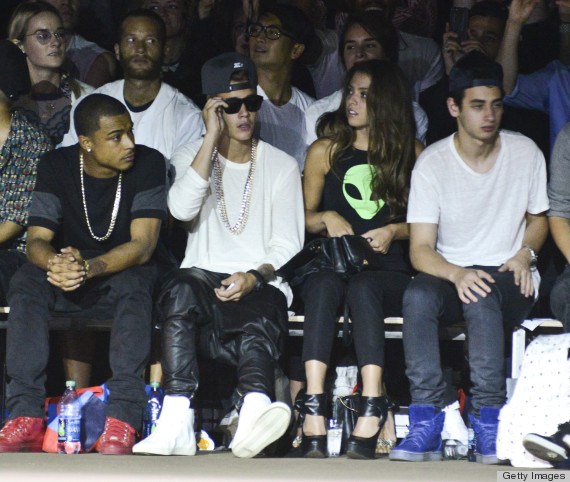 11. Logos are in. Leave it to Alexander Wang, the king of downtown cool, to come up with the most genius branding ever. His name appeared (discretely) on many of the looks from his spring collection -- they were laser cut into tops, gloves and even running up and down dresses.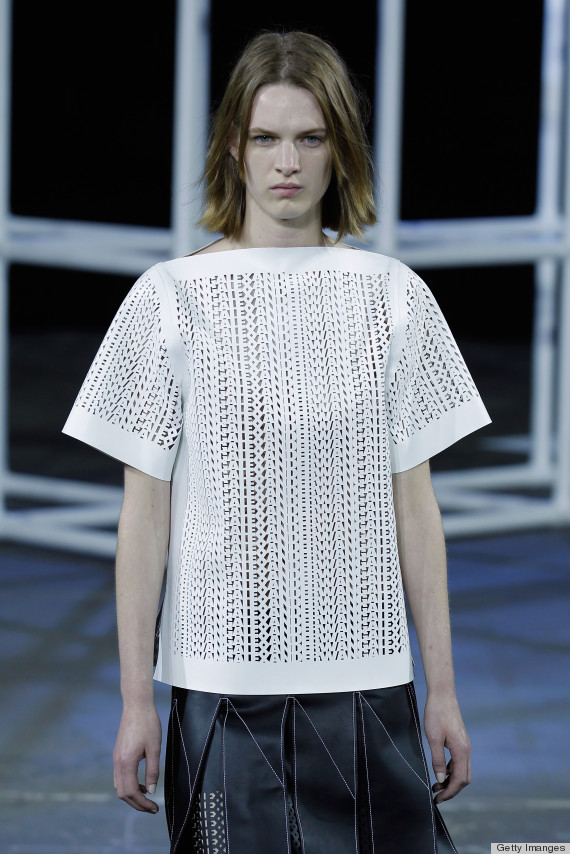 12. There were a few showdowns. Both Rihanna and Alexander Wang's adorable niece, Aila Wang, sported the "Parental Advisory" top from Wang's Spring 2014 collection. Who wore it better? We think Aila wins this one (sorry RiRi).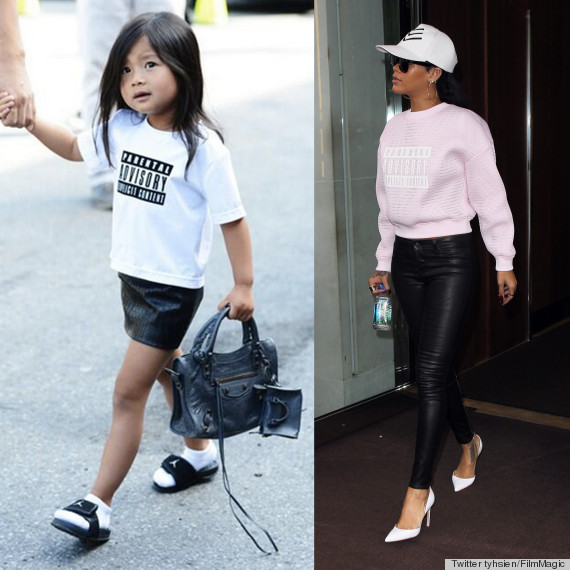 13. Karlie Kloss smized. Last season, we missed the famous model at New York Fashion Week, but thankfully she was at every major show this time around. And her smize has gotten even better. (Tyra would be proud!)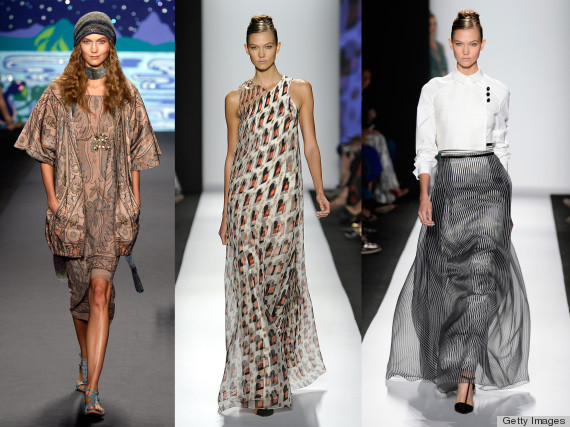 14. Things got awkward at Marc by Marc Jacobs. More than one showgoer showed up in the exact same outfit -- eek!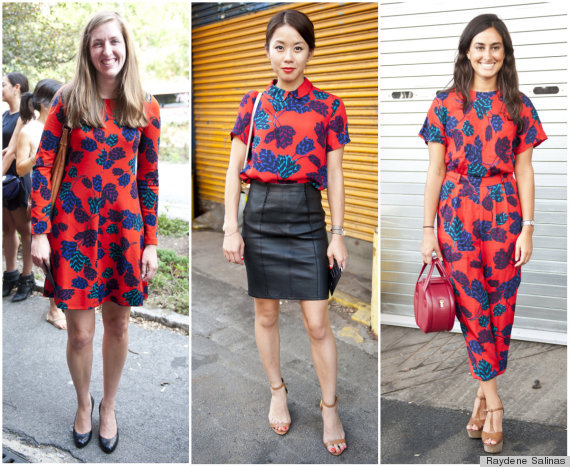 15. Crops tops are here to stay. According to Tibi, Elizabeth and James, Alexander Wang, BCBG, Rachel Zoe, Derek Lam... we could go on.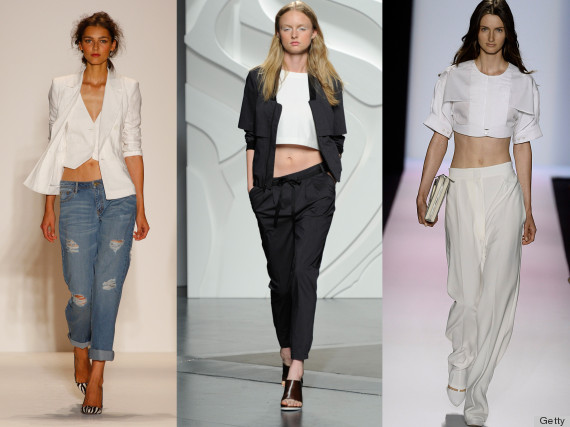 16. Birks are back! Or so Ali Hewson and Bono of Edun think.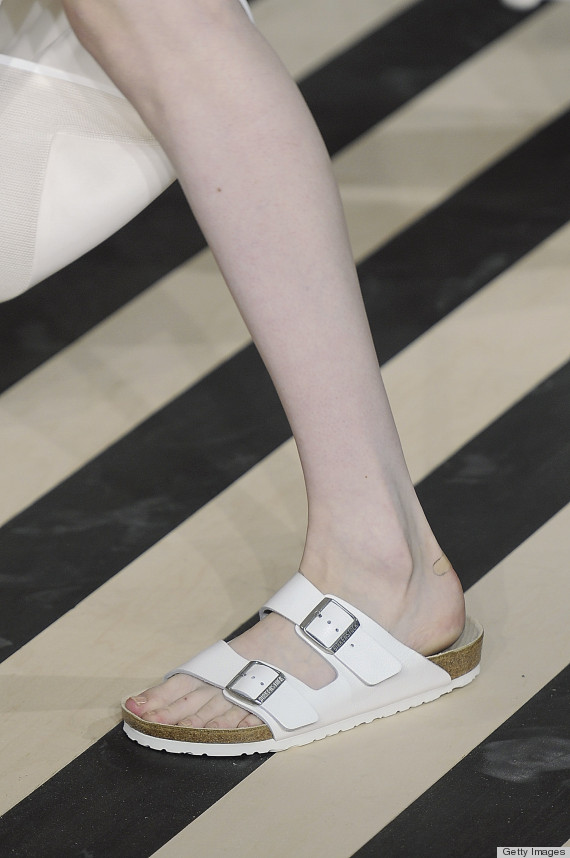 17. Rita Ora made an appearance on the catwalk. Ora strutted her stuff as she closed the DKNY show earlier this week.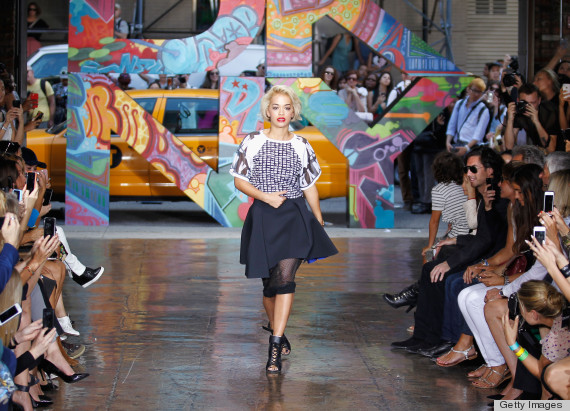 18. Editors were forced to do acrobatics. An elevator got stuck at the Philosophy show, forcing editors to climb out (in stilettos!) via a ladder.
"Guys, there's no need to panic. The elevator is stuck but we'll find a way out" pic.twitter.com/sALanKa40r

— eva chen (@evachen212) September 11, 2013
We're stuck in an elevator 'situation' at Philosophy. They're fetching ladders. pic.twitter.com/30yavp9Emj

— Harper's Bazaar UK (@BazaarUK) September 11, 2013


19. Prabal Gurung knows how to put on a show. Turns out the designer can do more than make beautiful clothes, he can also put on quite the Fashion Week production. His show was far from a straightforward strut. Instead, Gurung had all his models come out at once, into a plastic-encased runway, and take turns walking the catwalk. Meanwhile, the audience was able to see the complete collection inside the plastic screens. Way to combine a presentation and a runway show!
More things to remember from New York Fashion Week:
PHOTO GALLERY
Fashion Week Street Style
Want more? Be sure to check out HuffPost Style on Twitter, Facebook, Tumblr, Pinterest and Instagram at @HuffPostStyle.