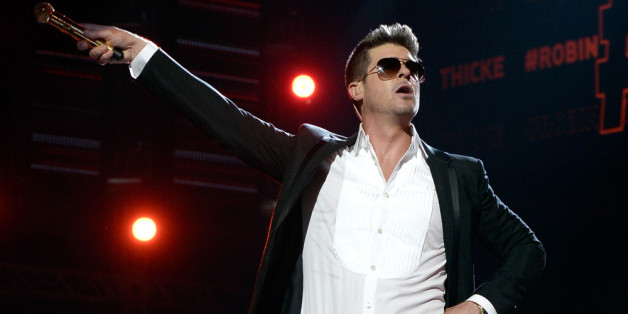 Robin Thicke's chart-topping "Blurred Lines" has been banned by a university student union for allegedly promoting non-consensual sex.
The Edinburgh University Students' Association won't allow the hit song to be played in union buildings as part of a larger policy to "End Rape Culture and Lad Banter on Campus," according to the BBC.
The policy was first enacted in March of this year in an attempt to counter "myths and stereotypes around sexual violence" and "dangerous victim-blaming views about women who experience rape and sexual violence."
"The decision to ban 'Blurred Lines' from our venues has been taken as it promotes an unhealthy attitude towards sex and consent," student union vice president Kirsty Haigh told the BBC. "There is a zero tolerance towards sexual harassment, a policy to end lad culture on campus and a safe space policy - all of which this song violates."
Thicke's song has been criticized as "creepy" and "rape-y" since it skyrocketed in popularity this summer. The chorus of "I hate these blurred lines, I know you want it," has come under particular scrutiny. "Call me a cynic," feminist blogger Lisa Huyne wrote, "but that phrase does not exactly encompass the notion of consent in sexual activity … Seriously, this song is disgusting -- though admittedly very catchy."
Thicke, for his part, has dismissed the accusations that the song promotes rape and says that his lyrics have been "misconstrued."
"If you listen to the lyrics, it says, 'That man is not your maker.' It's actually a feminist movement within itself," Thicke said during a July appearance on the "Today" show. It's saying that women and men are equals as animals and as power. It doesn't matter if you're a good girl or a bad girl, you can still have a good time."
BEFORE YOU GO
PHOTO GALLERY
Sexist Vintage Ads