 Black Americans are now three times more likely to support Obamacare (or the 2010 Affordable Care Act, as it's officially known) than are whites, according to a new Pew Research survey of 1,506 people conducted with USA Today.
A stunning 91 percent of the black Americans who responded said they approved of Obamacare while only 29 percent of whites did.
The divide between blacks and whites on health care was less stark back in 2009, when Pew conducted a similar survey before Obamacare passed. Just half of black Americans who responded then said they supported the Affordable Care Act's basic framework. Roughly the same percentage of whites -- 33 percent -- approved of what would become the law as do today. Notably, the term "Obamacare" had not been popularized at that time.
The black community's high level of support for Obamacare now more closely mirrors its approval of President Barack Obama overall. The president registered an average approval rating of 89 percent among black Americans between 2009-2013, Gallup reported in August.
To lay it out in a clean and clear way:
Black approval of Obamacare:
July 2009: 50 percent
Sept. 2010: 81 percent
Sept. 2013: 91 percent
White approval of Obamacare:
July 2009: 33 percent
Sept. 2010: 33 percent
Sept. 2013: 29 percent
Obamacare imposes both an individual mandate on adult Americans (to obtain health insurance) and an employer mandate, which requires large employers to cover full-time employees. The Agency for Healthcare Research and Quality, which exists under the U.S. Department of Health & Human Service, found in July 2011 that black Americans on average spend more of their lives uninsured than whites.
As Perry Bacon Jr. at the Grio points out, black Americans also have a lot at stake in the state-by-state battle over Medicaid expansion, a key aspect of Obamacare. Many of the states that will not participate in the expansion have large numbers of impoverished blacks.
Other demographic divides on the law continue to persist, the most extreme of which remains political affiliation -- 75 percent of Democrats approve of the law, versus 11 percent of Republicans. But among most other divides, the line is not so stark: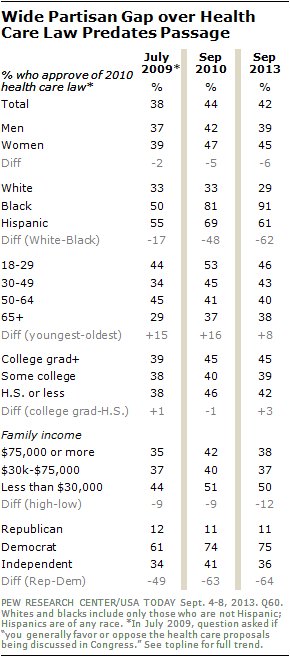 BEFORE YOU GO
PHOTO GALLERY
Obamacare Haters