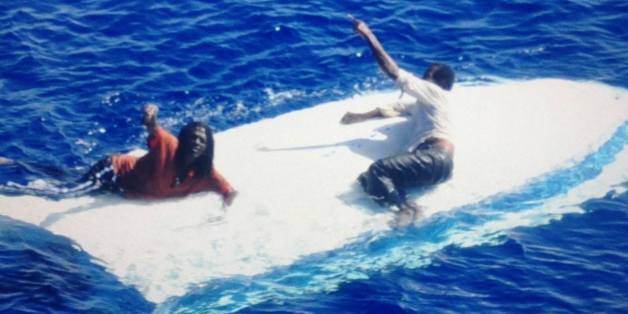 WEST PALM BEACH -- For the rescuer and the rescued, it wasn't supposed to happen like this.
Two Bahamian men left for some fishing and ended up floating on the hull of their capsized 20-foot boat -- for eight days.
A Coast Guard helicopter took off for a routine training mission Saturday, unaware of any real drama in the ocean below.
If not for a passing freighter spotting the tiny boat and its nearly lifeless passengers, the Gulf Stream would have carried the men further away to an almost certain death.
"They were really exposed and really deteriorating quickly," said Coast Guard rescue swimmer Kyle Stallings of the 56- and 57-year-old men. Their names were not released late Sunday.
Stallings said the men were lying in six inches of water on top of the boat and were completely waterlogged. He said their skin was deteriorating, their eyes were droopy and that, when he pinched their skin, it stayed in place for about four seconds, which is a sign of dehydration.
"They were both in tears. You could tell they were on their last straw of hope," he said.
Coast Guard officers said a large cargo ship stumbled upon the men drifting on their boat in the middle of the Gulf Stream.
"Timing was huge in this -- if the freighter hadn't seen them they would have been riding that Gulf Stream up to the north," said Pilot Jerod Glover.
The rescue happened around 5 p.m. Saturday 30 miles off shore between Boca Raton and West Palm Beach.
"They had nothing to hold onto; they were just laying flat and hoping they didn't slide off," Glover said.
Glover and three other officers with the 7th Coast Guard District had just flown off in their helicopter for the routine training mission along the beach when they got the call around 3 p.m. They found the men lying on top of their capsized boat, severely dehydrated, vomiting from ingesting salt water, and shaking from hypothermia.
Stallings, who was lowered into the water to assess their condition, said it was difficult to know precisely how long the men had been drifting at sea but that their condition was severe. They didn't have life jackets.
Glover said this was the first time he had completed a rescue where no one knew the men were missing.
"Every time I've found someone it was because we were looking for them," said Glover, who's been in the Coast Guard for 16 years. "It's the first time I've done a rescue where it's like something you see on TV, where people are saying [they] shouldn't be alive."
The men were individually hoisted into the helicopter using a rescue basket and flown to Delray Medical Center to be treated for dehydration and hypothermia. The officers gave them their own water and wrapped them in wool blankets during the 15-minute helicopter ride to the hospital.
"We didn't go out prepared to hydrate people who were stranded for eight days," said Glover.
The two Bahamians told the officers that they were on a fishing trip when their boat capsized. The officers didn't ask the men where they had been going or the specifics of their trip.
"Our worry at that time was just getting them to where they needed to go," said Officer Jose Rivera.
The Coast Guard said that U.S. Customs and Border Protection is now handling the case. Customs and Border Protection didn't return phone calls Sunday evening.
hcarney@tribune.com or 954-356-4188 ___
BEFORE YOU GO
PHOTO GALLERY
8 Amazing Videos of Everyday Folks Turned Unsung Heroes