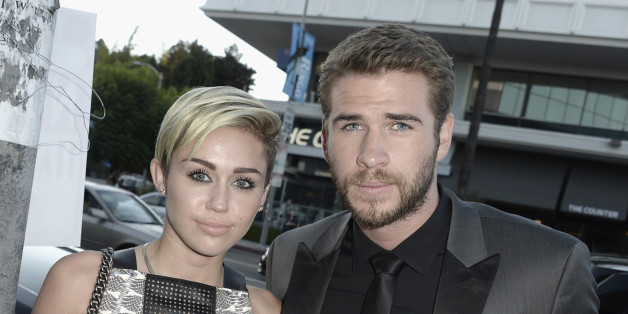 Miley Cyrus and Liam Hemsworth met on the set of the "The Last Song," but it was their first song. In the coming years, we watched as Cyrus wore an engagement ring, and then got really mad when we thought she was engaged, and then she was actually engaged, and then was possibly not engaged, and then was maybe engaged again.
It's been a wild ride, not unlike one of those old wooden roller coasters; the couple's young love has been filled with the kind of ups and downs that probably won't lead to your death, but are likely to give you back pain. Yet, like all wooden roller coasters, it's time this one got the wrecking ball.
Here, to help you deal with the heartbreak (or maybe just general confusion), an exhaustive guide to Miley Cyrus and Liam Hemsworth's on-again, off-again, on-again, and now definitively, p.r.-rep-confirmed off-for-good relationship.
Note: We kindly suggest you play this "Last Song" song, while you read.
August 2009 - Miley and Liam are officially dating, and it was like a door had opened (literally). Miley later told Ellen DeGeneres how it happened:
"I was like, guys just need to be out of my life for a little while. [I thought] 'I just need to be alone.' But I met him, and he opened the door for me, and I was like, I have been in L.A. for three years and I don't think any guy has actually opened the door for me. It wasn't that he wanted the job. That's just who he is. I was like, 'Wow, that is super-impressive.' I actually turned to the director and said, 'He's got the job.' He's hot and he opened the door. Excellent."
March 2010 - In an interview with Parade magazine, Miley calls Liam her "first serious boyfriend." "I know who I am now," she said, "I am so content and full of purpose ... I guess God was like, 'Girl, here is this amazing guy.'" Well, thank heavens.
March 25, 2010 - Miley and Liam walk the carpet together at the "Last Song" premiere. They smile, and look like two crazy kids in real-life love (as they pose in front of pictures of themselves, pretending to be two crazy kids in acting love). <3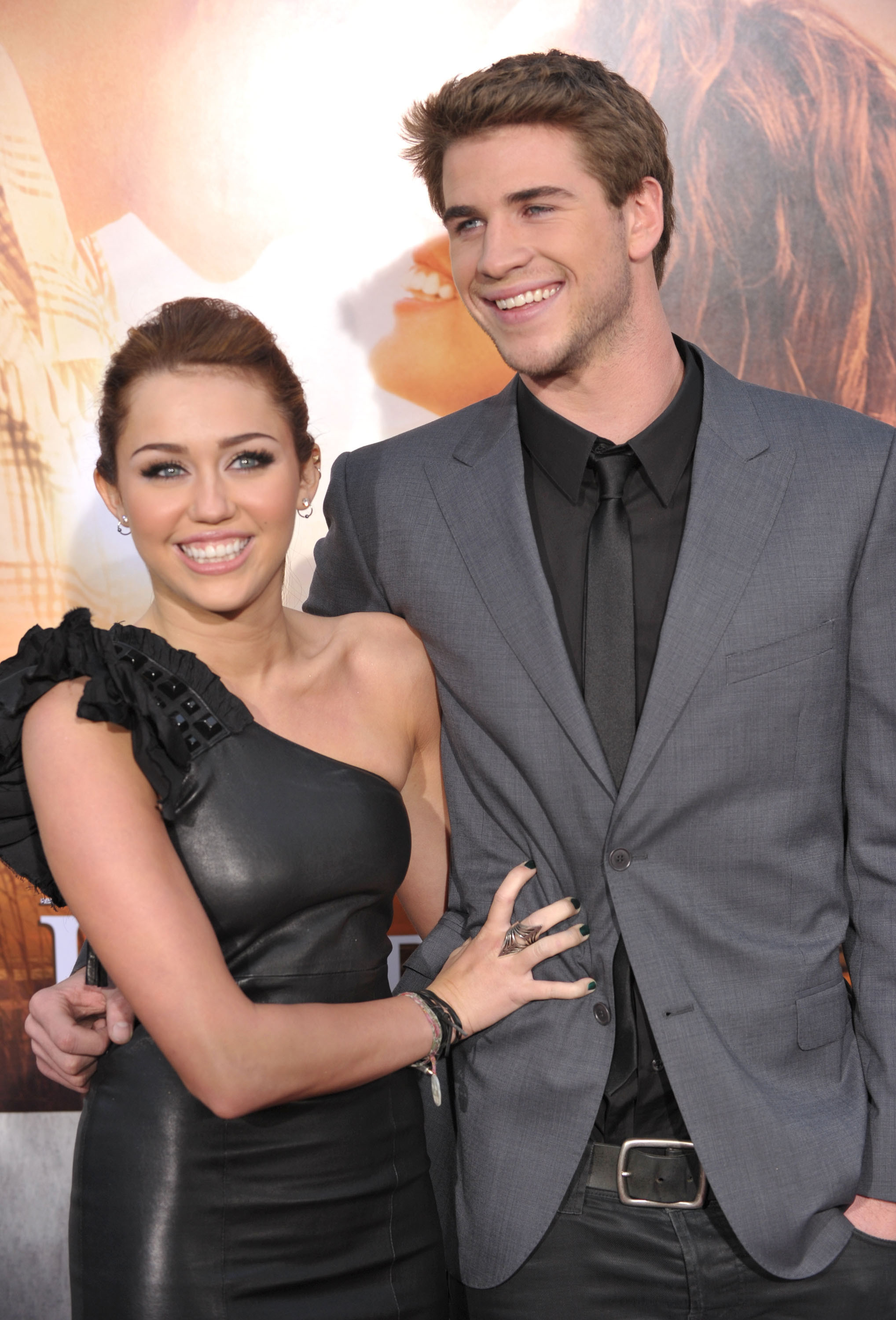 Aug. 25, 2010 - The world dims to a dull silence as reports emerge that Miley and Liam have split.
Sept. 20, 2010 - The couple looks "so in love" over milk and cookies. On-again.
Nov. 5, 2010 - Off-again. Sources tell People magazine that the relationship is over. "There was no drama. The relationship just ran its course. They were good friends first and remain friends."
Nov. 23, 2010 - Although "clearly not over Liam," Miley is spotted kissing Nickelodeon star Avan Jorgia -- unfaithful to her man AND Mickey Mouse, the plot thickens.
Aug. 22, 2011 - Miley and Liam are back to being totally in love ... or at least eating spinach salad together.
Dec. 29, 2011 - Frolicking in Hawaii, Miley and Liam soak up the sun and each other.
Jan. 11, 2012 - Miley's hair gets a little funkier, but the two are still smiley, spotted here in official capacity at the People's Choice Awards...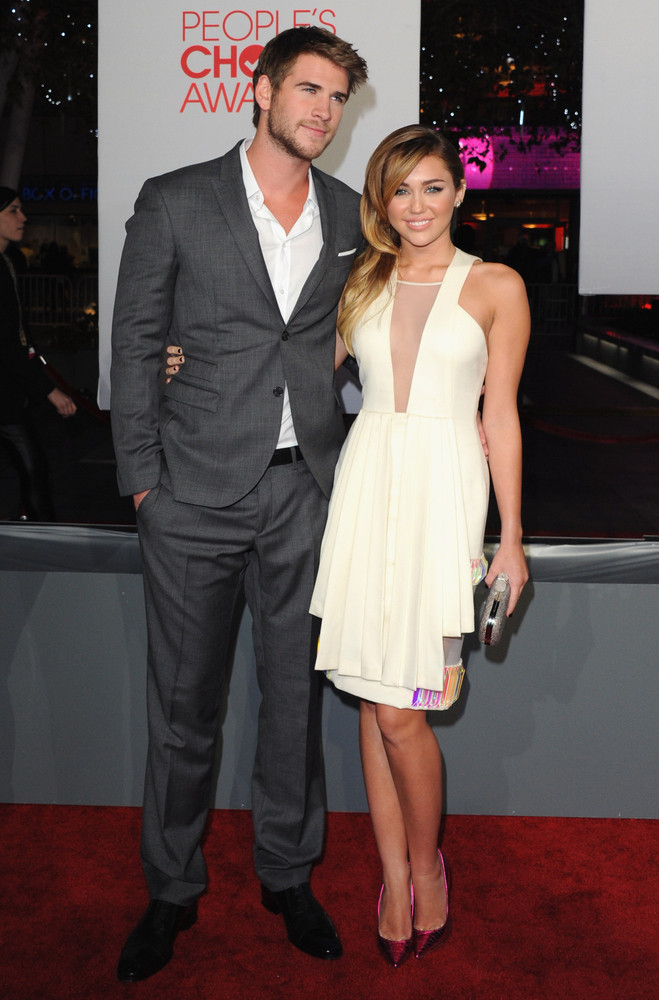 Feb. 26, 2012 - ...and again at the Vanity Fair Oscar Party. March 21, 2012 - Liam professes his love for Miley in Details magazine, and it all kind of sounds like this great big rushing waterfall of feelings:
"What happened happened, and we've been together two and a half years. She makes me really happy. When you start, you want to be professional, but when you're filming those scenes with someone and pretending to love them, you're not human if you don't feel something."
March 23, 2012 - Liam continues to gush about Miley in interviews, telling Ryan Seacrest, "[Miley's] one of the biggest stars in the world, there's no shadowing her."
March 25, 2012 - After wearing an engagement ring to Muhammed Ali's Celebrity Fight Night XIII ... and then tweeting a photo of her engagement ring, Miley is just furious that people would think she is engaged.
I'm not engaged. I've worn this same ring on this finger since November! People just wanna find something to tal about! It's a topaz people!

— Miley Ray Cyrus (@MileyCyrus) March 26, 2012
April 23, 2012 - The couple is spotted out on a date and they are color-coordinated (read: both happen to be wearing black)!
May 31, 2012 - Miley and Liam are engaged!!! "I'm so happy to be engaged and look forward to a life of happiness with Liam," Miley says.
June 1, 2012 - One day after the engagement, Miley is either feeling super '80s or in a place of pre-marital bliss.
heaven is a place on earth ❤

— Miley Ray Cyrus (@MileyCyrus) June 1, 2012
June 27, 2012 - With her locks chopped off, Miley and her Australian look happy at the Australians In Film Awards.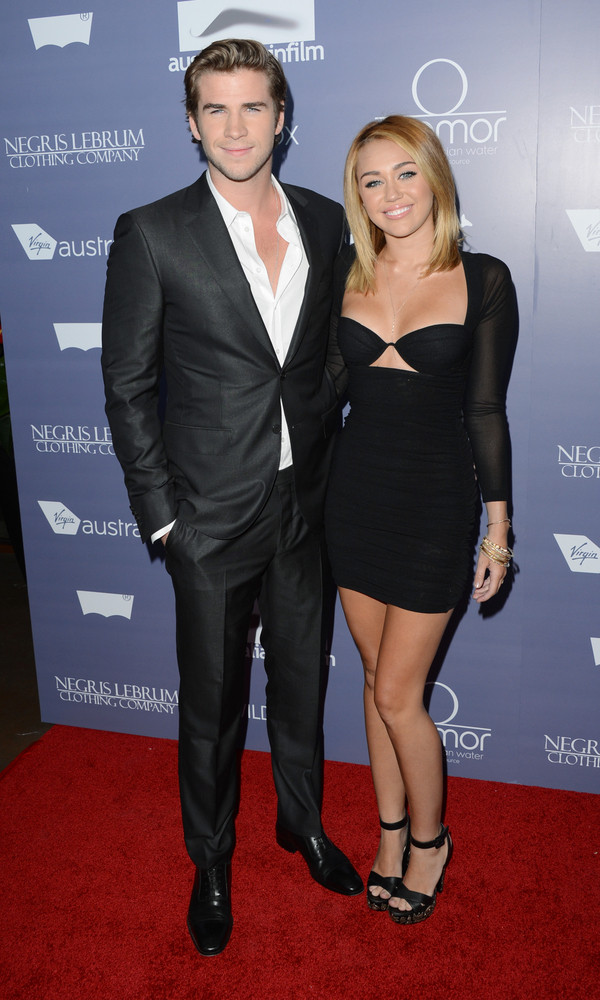 Dec. 18, 2012 - Flying all the way from Los Angeles, Miley visits Liam on the set of his film "Paranoia," and the two actually seem like they might possibly be a real (celebrity) couple.
Jan. 26, 2013 - Miley takes to the cover of Cosmopolitan to express her love, while wearing a blazer and not much else. "Number one is my relationship with Liam," she says. "That's what I feel the most confident in."
March 20, 2013 - Miley tweets a selfie, which includes her engagement ring ... and that weird unicorn onesie.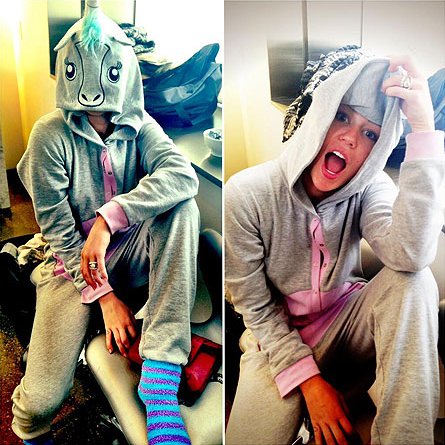 April 11, 2013 - Luke Hemsworth's wife Samantha Hemsworth, says that the Hemsworth children call Cyrus "Aunt Miley:" "She plays with our kids. She loves our kids." Things sound really fun and safe.
April 18, 2013 - Despite all that time playing with and loving the kids, Miley and Liam allegedly decide they are not ready to walk down the aisle. "They want to figure out their life together before they get married," a source tells People magazine. "They're still engaged and living together."
May 01, 2013 - It turns out, Miley doesn't have time to walk down the aisle. She confronts rumors in V magazine, saying:
"I'm not home with my boyfriend all the time. We work! He gets up to work out at six and I come home around five from the studio. Every week it's, 'Are they broken up? Because we don't see a photo of them.' I don't have time to go to Starbucks with my boyfriend every morning. I wish I did, but I don't."
May 29, 2013 - Us Weekly reports the couple has is broken up. No reports on whether Miley had time for Starbucks.
Aug. 8, 2013 - The two are photographed for their last known public appearance at the "Paranoia" premiere -- [Insert Additional Foreshadowing Here].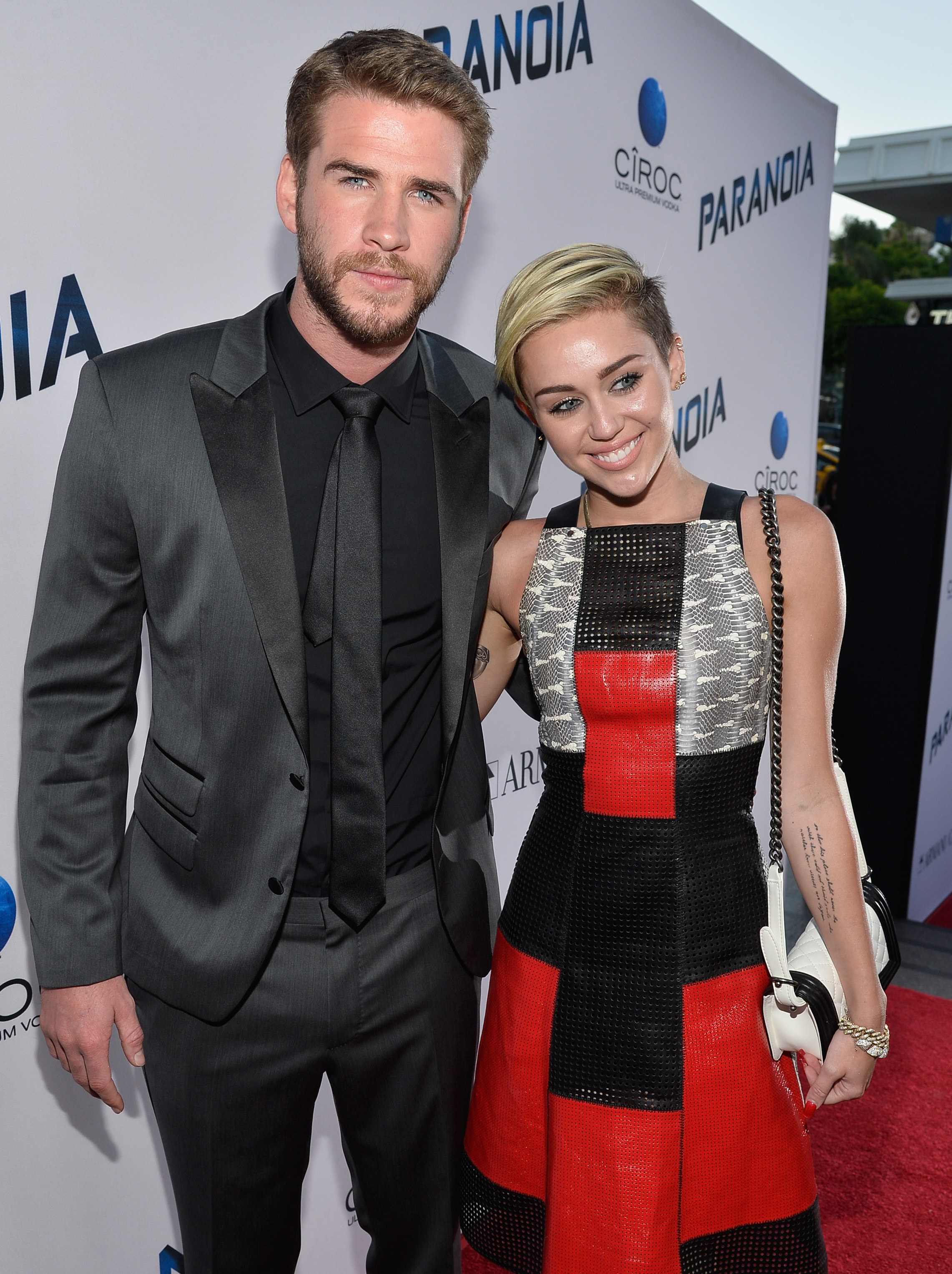 Sept. 6, 2013 - Liam reportedly finds Miley's VMA performance "mortifying." Sources tell Us Weekly he just wants a "clean break."
Sept. 15, 2013 - Miley unfollows Liam on Twitter. #ouch
Sept. 16, 2013 - A rep confirms that the engagement is off. It seems everyone saw it coming ... except possibly Miley.
BEFORE YOU GO
PHOTO GALLERY
Miley Cyrus' Transformation