WASHINGTON -- It was one of the worst days D.C. has seen in a long time.
Twelve people were killed and 14 others were wounded at the Navy Yard on Monday after a gunman police identified as Aaron Alexis opened fire on employees in one of the buildings.
Police later killed Alexis, but officers remained on high alert all day as a second possible shooter was reported at large. Roads were closed for blocks. Businesses shut down. People in nearby buildings were instructed to stay inside. The Senate went into shutdown mode, planes at nearby airports were grounded, and the Nationals, whose baseball stadium is blocks from the Navy Yard, called off their scheduled evening game against the Braves.
By Monday evening, it was still unclear whether there had been a second shooter. Navy Yard employees -- there are roughly 3,000 of them -- were allowed to leave the complex by 3:30 p.m., having been on lockdown for hours. And slowly, hundreds began to fill the empty streets and make their way to the nearby Metro station. Some stopped for a few minutes to talk to reporters about their experience.
"Terrifying," said Gregory Dade, who said he locked himself in his office as gunfire carried on for nearly an hour outside his door.
"There were several shots. Rapid shots, single shots. One young lady screamed out, 'Help! Help!'" Dade said. "We thought maybe it calmed down, but then you'd hear it again. Somebody yelling, glass breaking. ... Then you'd hear some single shots, some more rapid fire. ... We didn't know who was running up and down the hallway."
Dade, a Hewlett Packard technician who has worked with Navy Yard employees for nearly 10 years, said some of the victims were his close friends.
"I've heard ... several of my friends I've been working with were shot," he said. "Some of the names I've heard ... I hope they're okay."
Navy Commander Tim Jirus said he heard what sounded like a cap gun going off a few times, and didn't think much of it. But minutes later, he was outside the building in an alley running for his life as a colleague he had just been talking to was shot in the head.
"He dropped in front of me," Jirus said. "I took off after that."
Jirus, who's been in the Navy for 25 years, said he's used to training for combat operations overseas and has seen dead people before. Monday's shootings were different, he said.
"Seeing somebody die in front of you, here where you work at, is more of a relationship of you talking to God or you realizing just how fragile life is," Jirus said. "To hear gunshots and realize you were that close to being shot, it makes me like life a lot today. I'm going to hug my kids the next time I see them and have a good day."
Swarms of reporters were at the scene for throughout the day and into the evening. D.C. Mayor Vincent Gray came by and gave updates at a couple of quick press conferences, along with D.C. Police Chief Cathy Lanier. D.C. Del. Eleanor Holmes Norton also spoke to the press.
Anyone in need of a bite to eat had limited choices. Most area restaurants closed. Some had handwritten signs taped to front doors citing the shooting. One Subway stayed open, so it quickly became a hot spot for reporters desperate to recharge their computers.
With police cars everywhere and so many streets roped off, some employees of nearby businesses were perplexed at how to get home Monday evening.
"Damn ... What? ... Well hell, how we gonna get out of our parking lot?" one woman asked another as they left their building.
City officials helped remedy the situation by bringing in special buses to shuttle Navy Yard employees out of the area. A D.C. Metro police officer told HuffPost that all Navy Yard employees would get a free ride home on Metro for the night.
Dade was among those nabbing a Metro ride home. He was heading into the Navy Yard Metro station when he stopped briefly to talk to reporters.
"Folks, I'm tired," he finally said with a weak smile. "I've been in since 5:30 this morning. I want to go home."
Here are some photos from the day's events outside the Navy Yard on Monday: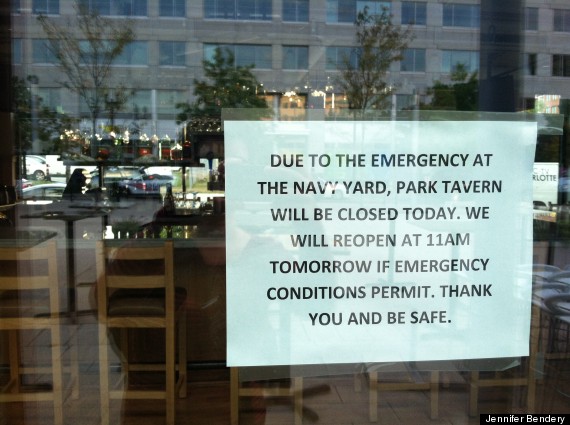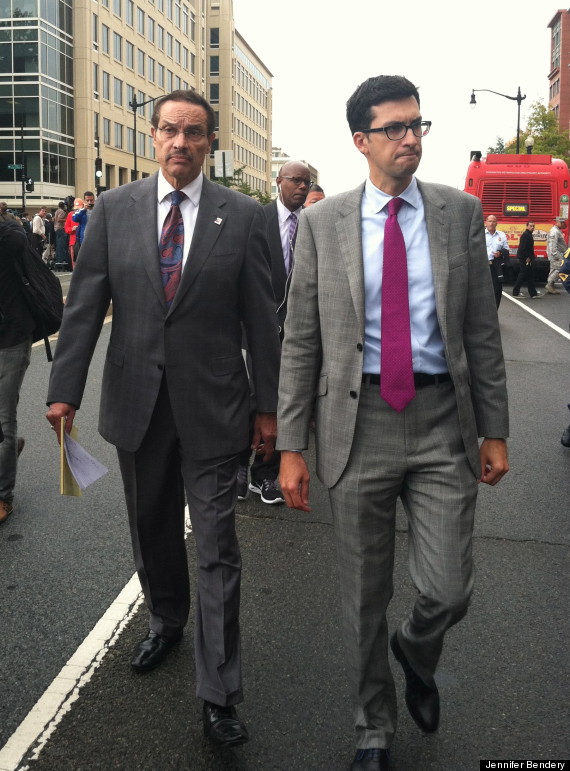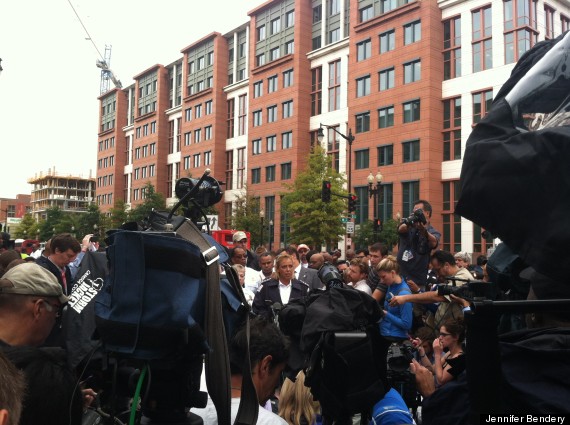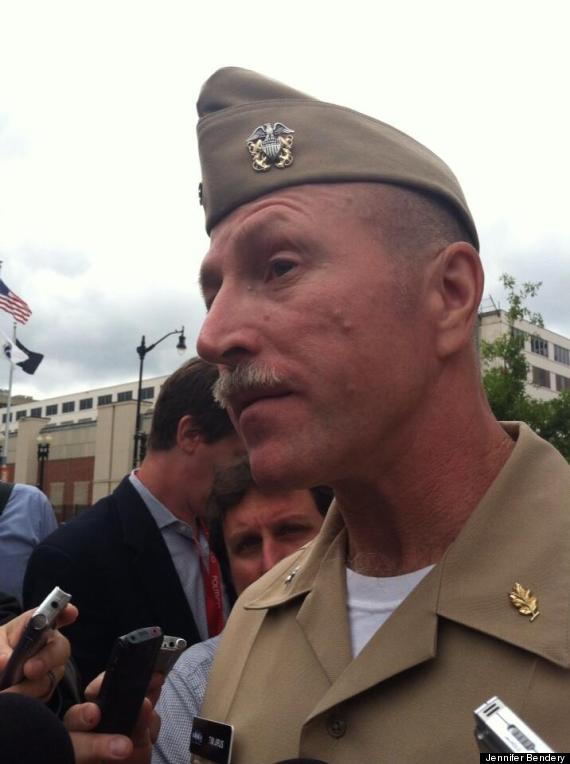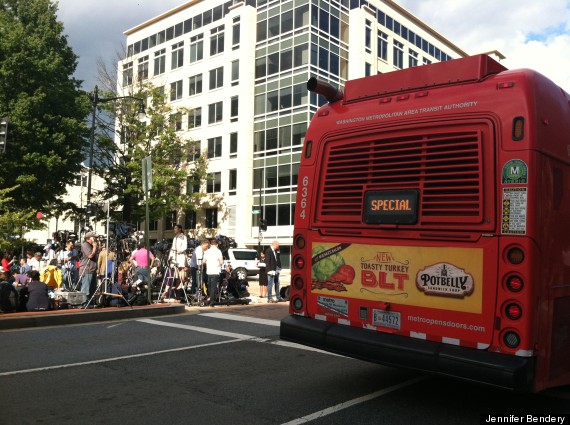 BEFORE YOU GO
PHOTO GALLERY
Navy Yard Shooting