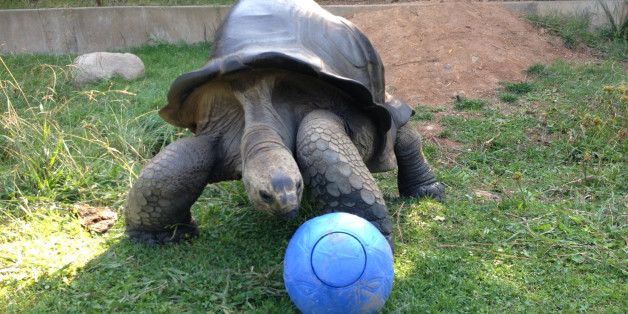 This is the kind of animal testing we can all get behind.
The Oakland Zoo announced Friday that some of its strongest exotic animals are the recipients of balls from the One World Futbol Project, a Berkeley-based company that designs and distributes an allegedly indestructible ball that youth around the world--particularly those in communities where buying new sports equipment is no simple feat--can play with in even the harshest of environments.
Animals like Ralph the Aldabra tortoise, who has taken a liking to resting all of his 600 pounds on top of the ball, will both test the ball's durability and its function as a form of animal enrichment, the Oakland Zoo told The Huffington Post.
The balls, designed to never wear out or deflate, promise to stand the test of claws, teeth and beaks. A lion that typically destroys six balls over the course of half an hour can enjoy one of these sustainable footballs for years, the One World Futbol Project reports.
The Oakland Zoo said that their animals, especially aging ones like 100-year-old Ralph, need that playtime.
"Enrichment is a critical part of our everyday husbandry for zoo animals," Margaret Rousser, Zoological Manager at Oakland Zoo, said in a press release. "It provides mental stimulation as well as physical activity. Though it is difficult to find toys that will hold up under pressure of exotic animals, we have found One World Futbols to be a great asset for several species at Oakland Zoo."
The balls made their way to the Oakland Zoo as part of the company's "Zoo Seconds" program, which gives balls that are not up to retail standards to participating zoos at no cost.
The durable balls are also a move toward sustainability. One World Futbol inventor Timothy Jahnigen estimates that 20 million balls find their way into landfills every year.
BEFORE YOU GO
PHOTO GALLERY
15 Animals Working Out