 Following a future Hall of Famer like Peyton Manning is not easy, but quarterback Andrew Luck is doing a fine job thus far. In 2012, his first season, the former top overall pick from Stanford captured an NFL rookie record of 4,374 passing yards while leading the Indianapolis Colts back to the playoffs after the team went 2-14 the season before. He also earned a trip to the Pro Bowl.
Luck, who on Tuesday announced his partnership with the energy drink Bodyarmor, spoke with The Huffington Post by phone about his budding stardom, the NFL's safety issues and why he thinks an openly gay player would be accepted in an NFL locker room.
What is the next step for you at this point in your career?
As far as taking the next step, I think of winning. Winning is always the next step.
Give us an idea of your day-to-day as an NFL quarterback.
During the season, it's a lot different. Tomorrow I'll wake up pretty early, get to the facility, eat breakfast. Drink some Bodyarmor. Get a lift in. Get in meetings for about three, three and a half hours. We have a walk-through. Go to lunch. I think it's so important that you sleep enough, and that you're eating right [and] staying hydrated so that when practice does come around, you can get out there and be at your peak physical condition. Then some more meetings after practice.
You mentioned sleep. How do you work around it?
I'm a big sleep guy. I think my schedule sorta starts with sleep and making sure I get enough of it. I'm an eight-plus hours guy. I would love to sleep more. I definitely try to create a routine and not stray from that routine at all, but I will take advantage of having an off-morning. And I really have become a fan of the 20-minute catnap.
You stayed in college and received your degree [in architectural design]. How important was that to you and will you use that degree after football?
It was nice to finish up Stanford. I think I always felt that I would be there for four years and graduate, and definitely didn't want to leave early. A degree was definitely a plus and I was having a lot of fun in school. But after football, you know, I don't know. I really did enjoy studying architecture; it was a blast.
Next, you travel back to Northern California to face your college coach, Jim Harbaugh [now head coach of the San Francisco 49ers]. Are you thinking about that?
Yeah. Maybe a little. I don't think I'll approach the game any differently. It will be nice to see him. I enjoy a great relationship with him. I don't think it will affect the game in any manner. Luck ran for five touchdowns during his rookie season in 2012. (AP)
Your college teammate was [Seattle Seahawks cornerback] Richard Sherman. Was he always this talkative and chippy?
It was always fun to be around Richard. He always had something to say. A very sharp guy. I don't think people realize how sharp he is. He was always a great teammate to me and obviously a great personality.
With yourself, Colin Kaepernick, Russell Wilson and RG3, we have seen an influx of young quarterbacks playing great football. Why do you think that is?
I'm not sure how to explain it, but I think maybe coaches are trusting the guys to go out there and play. I feel like I have 100 percent confidence and trust of our coaches and that lets ya play without holding anything back.
Do you like to watch football, and in particular, the other young QBs in this league?
Not really. I'm definitely a football fan, so I try to stay up with how teams are doing, and you end up getting a lot of buddies that play on certain teams. I wouldn't say I watch too much of other quarterbacks.
People always talk about your impressive understanding of the game. When you're at the line of scrimmage before the snap, do you have free rein to change the called play?
Our coaches -- our [offensive] coordinator Pep Hamilton -- they really give us a great framework ... of what play to get into. I wouldn't say it's free rein. I'm not going into my brain and picking out the play. Within each play, there's certain checks the coaches have set up that make sense to get us into an advantageous situation.
You have also had some success running the ball. How comfortable are you on the move when you know you need to run for the first down?
You know, I'd much rather get the ball out of my hands to the other guys, the athletes on the team. Every now and then, if it's necessary to run, I have no qualms about it.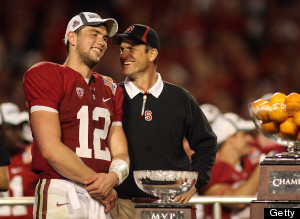 Luck says he has a "great relationship" with his college coach and current 49ers coach, Jim Harbaugh. (Getty Images)
You have said you wouldn't have an issue with a gay teammate, but do you feel that other guys share that same sentiment?
Yeah, I don't think players -- I can't speak for everybody, obviously -- but I would hope that there wouldn't be problems in the locker room if there was an openly gay teammate. I saw one of my old coaches Bruce Arians said that fans would probably be the worst part of it and I probably would agree. That would probably be the toughest thing. I'm sure the locker room would be a bit of a sanctuary almost.
Is the NFL locker room a safe place then?
Yes, absolutely. It is almost guys' home away from home. I do think it is a safe place and should be a safe place. It'd be a shame if it ever wasn't.
The NFL has been in the news a lot for imposing new safety rules and for a lack of protecting its players. Is there anything else it can do safety wise though, especially with the quarterback position?
I don't know. It's a tough deal. I understand the league is gonna help out with keeping guys safe, especially the head trauma issues. It's also hard to fine a guy when he's just going full speed and trying to make a legal tackle, and something happens and his head happens to hit someone else's head. I think it's a fine line. I don't know if there's ever gonna be a true peace, if you will, between the two sides. It's a tough deal, and I definitely recognize and appreciate that.
Are guys aware of fantasy football? Do they actually talk about it?
Guys don't talk about fantasy that much. You hear fantasy more from people at the supermarket or at dinner. It's probably become synonymous with hello and good luck this weekend.
It has to get annoying then right?
Yeah. I won't lie. Definitely. I also realize how much it helps the popularity of the NFL, which I think in turn helps us as players.
This interview has been edited and condensed for clarity.
Email me at jordan.schultz@huffingtonpost.com or ask me questions about anything sports-related at @Schultz_Report. Also, be sure and catch my NBC Sports Radio show, Kup and Schultz, which airs Sunday mornings from 9-12 ET, right here.