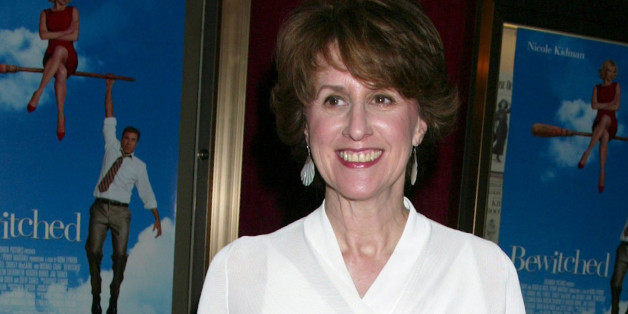 What does it take to get to the top -- without losing your center? Our "Making It Work" series profiles successful, dynamic women who are standouts in their fields, peeling back the "hows" of their work and their life, taking away lessons we can all apply to our own.
"I can practically be best friends with anyone on the telephone," Delia Ephron told The Huffington Post. It's hard to imagine anyone ending a phone conversation with the 69-year-old author, screenwriter and playwright, and not wishing to be one of those best friends.
Her phone manner makes you realize why she's such a talented writer -- everything she says feels quotable. This probably stems from the fact that Ephron was raised in a family that valued the written word above all, which she discusses in her new book of essays, Sister Mother Husband Dog (Etc.). Her parents were screenwriters Phoebe and Henry Ephron, and her three sisters -- Nora, Amy and Hallie Ephron -- all grew up to be writers as well. "Our words and thoughts are muddied together in life and in the movies we collaborated on," she writes of her work with her sister Nora, who passed away in June 2012. "We borrowed lines from each other the way other sisters borrow dresses."
Ephron, who lives in New York City with her husband and dog, boasts an impressive resume which includes writing credits on films like "You've Got Mail," "The Sisterhood of the Traveling Pants," "Bewitched" and "Hanging Up," which is based on her novel of the same name, a slew of books both fiction and non-fiction, and a play she wrote with Nora titled "Love, Loss and What I Wore." Her latest work gives readers further insight into her closest relationships and professional collaborations.
Why do you do the work you do?
It was my destiny to be a writer. It was [partially a result of] unbelievable programming, my father shouting "that's a great line, write it down," every time I said something funny. He would also say things like: "That's a great title, write it down." So I had titles for things before I even knew how to write. And in fact, often, an idea comes to me by way of a title, which I'm absolutely sure is from him shouting at me at the dinner table.
I was rewarded for my storytelling all the time. And my mother made sure we only took English and History and things like that. So [my sisters, Nora, Hallie, Amy and I] were being groomed to be writers. And then I just avoided it because my parents were writers and Nora was a writer and I just thought, "I can't do this too, it seems so scary." But then I got to be in my late 20s and I thought, "you better do it, because time is going away." And then the genes, of course.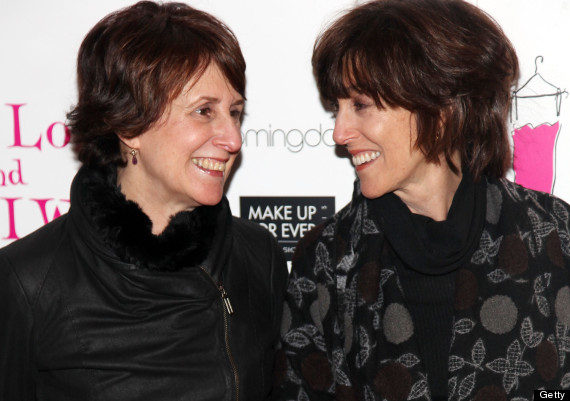 Delia and her sister, screenwriter and director Nora Ephron.
Do you remember a moment when it sort of clicked?
No, it was very gradual. I had started a crochet business for some reason -- I have no idea why I thought I should be in the crocheting business. I was in New York at a party and there was an editor there from Simon & Schuster and I said to him, "I'm sure you'd never be interested in this -- isn't that great that I said it that way? -- I'm sure you'd never be interested in this, but would you like a book about crocheting?" And he said, "yes." Of course I wasn't really writing, I was just writing directions for how to make things. But then I started to admit to myself, "oh this is what it is. This is what I want."
If you weren't a writer, what would you be doing?
My fantasy is that I would be a tennis commentator on television, but obviously that's not happening.
Who are your role models?
I think because I was raised in a family of such strong women, my role model was probably my mother. She was a writer and a working woman and that's what she expected us to be. She always said: "Don't worship celebrities, they're no better than you are." I think she was such a force that I was intimidated out of admiration or something. But I always have thought that Billie Jean King was one of the greatest people in the world, because she changed women's tennis. She just took everyone on.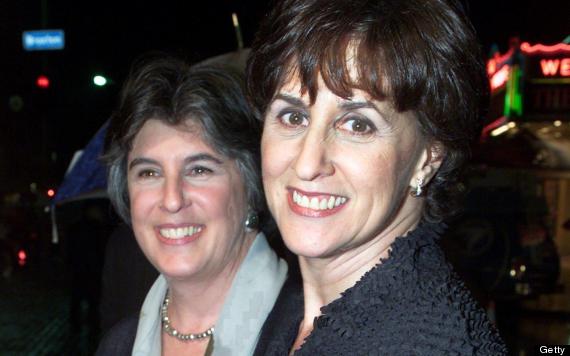 Delia and her sister, Hallie.
Have you ever had a mentor?
I've had a bunch of mentors over time. My sister Nora was a huge mentor to me. When I moved back to New York to seriously become a writer, she gave me my first break with a piece called "How To Cut Off Your Blue Jeans," which was 50 words in Esquire magazine. She always read my [journalistic] work, too, and gave me helpful pointers. And certainly we worked together as screenwriters.
Mary Perot Nicholls was my boss when I worked at the New York City Parks department. She was fantastic. We did all the happenings, which were these amazing events that took place in Central Park. And every day she would come in just fired up with ideas and energy, and we would all pile into her Parks Department-issued car and drive all over. She just gave me such a sense of how fun work could be.
And Edward Koren, the New Yorker cartoonist. When I wrote this little piece called "How To Eat Like A Child" [for the New York Times Magazine] which changed my life as a writer -- they didn't have Twitter then but it was one of those pieces that everybody read and I got a million calls and the Times got more mail than Israel -- Ed gave it to the Times for me. He illustrated it. And then he illustrated three of my books. So I always think that he was integral to my career.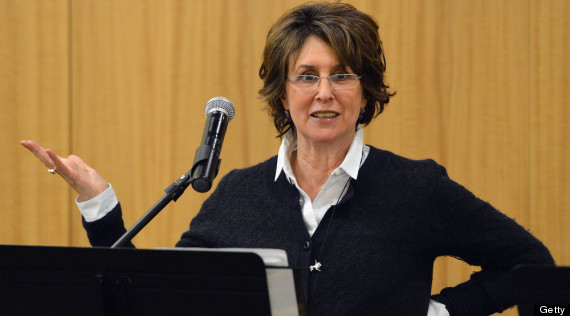 Delia, speaking about her novel The Lion Is In at Barnes & Noble.
Do you think there's still a glass ceiling for women?
Of course there is.
Have you ever hit it?
Here's what I know. Almost all movies are about men and they're almost all for men. For women actors, there are so many fewer parts, fewer complex parts, fewer parts about unusual women. One of the wonderful things about writing books is that it's OK to write books [about women] because women read them. It is so much harder to get a movie made about a woman's life. It's just heartbreaking.
Do you think that women have a responsibility to help other women at work?
I think you have a responsibility to help people, period. One of the great joys of life is to help other people fly. That's the most fun.
And my girlfriends, we're all writers and we're constantly [supporting each other]. My friend Julia has this acronym, called V.P.F., Very Proud Friend. She's always signing her emails to me V.P.F. It's adorable.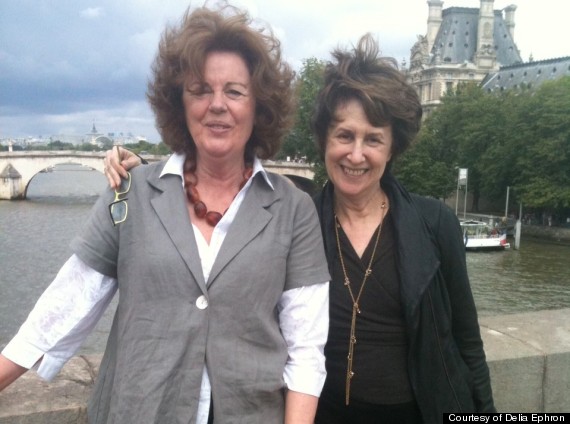 Delia and her best friend, Julia Gregson, in Paris.
What were you doing when you were 25 and where did you think you were headed?
I was waiting to get married. I really literally wanted to get married in spite of all the influence of my mother, because of course I had seen "Seven Brides for Seven Brothers" when I was a child. Romantic comedies destroyed my life as a child. This is what I wanted. And it wasn't until I did it and it made no sense to me, and my life appeared to be going nowhere, I suddenly thought, "uh oh, you better go and be a writer because that's what you want to do."
If you could go back and do it again, is there anything you would you do differently at the start of your career?
I regret that I wasn't more aggressive. And I can't even be specific about that. I just mean that I don't really regret anything I did, I just sometimes regret calls I didn't make, or if somebody said they didn't like something and I said "oh they must be right." I regret believing somebody else about my own work.
It always seems to me that you have to believe in yourself. And I regret the moments when I didn't, even though they're so normal and human.
Define the word "success."
Feeling good about the life you're living.
According to that definition, are you successful?
I have been lucky to make my living with my imagination, I live in Greenwich Village and I'm married to my husband who I'm really mad about. So by those three things, I've had a lucky life. Success is something else. Success comes and goes, but I have been fortunate for those three reasons. Also, I have an extremely good dog.
Do you consider yourself a happy person?
I have a good time. I mean, yeah, I do I think I am a happy person. Weird, I would never think about that, but yes!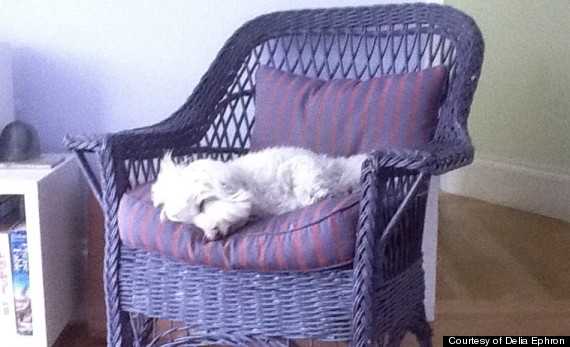 Delia's dog, Honey.
Do you get enough sleep?
Oh yes, I'm a really great sleeper.
How much is enough?
I'm really embarrassed, but eight hours. I really like to sleep. It's fun. I never slept as a child because my parents kept me up all night screaming. And therefore, the fact that I get to sleep all night, it's one of the great gifts.
Do you keep your phone next to your bed?
I love talking on the phone to my best girlfriends, but I don't like having my cell phone with me all the time. Sometimes I leave it at home at night and go out without it. I think it's much better. When someone's looking at a menu, you're not sneaking your cell phone out to look at what email you've got.

Do you get enough exercise?
No, because I really hate the treadmill and I'm always supposed to be doing it.
What does an average working day look like for you?
I work almost every day, but my big work hours are 2-7 p.m. I have a latte which is like writer's crack and then I can work.
What is an ideal or perfect weekend day?
I just had one! We met a couple friends for breakfast and then we watched the U.S. Open, the Serena Williams final. And then we went to BB King lounge and heard this girl group with a bunch of friends. You know the girl groups from the '60s? These women are so amazing. They're now in their sixties and seventies, and they're incredible. It was a perfect day.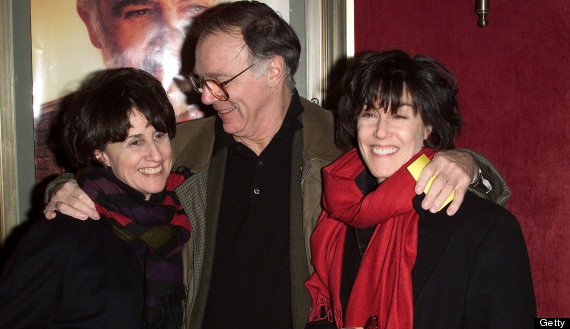 Delia with Nora Ephron and Nora's husband, Nick Pileggi.
How do you relax?
I relax when I write actually, because my brain is in a whole other place. And the most important thing about relaxing is not thinking about anything, not having your mind on yourself. I [also] like watching old movies and I got totally hooked on this French Netflix series called "Spiral." It's the greatest thing I've ever seen. I almost cried when it was over. I really love great television. I love it when I'm obsessed with it.
I know that you're stepmom. When the kids were younger, did a major work obligation ever collide with their school play, or some version of that?
No, because I was a writer. Writers are very fortunate in that their lives are so adaptable that way. But there was also a mother and a father. I was not #1. I was #3 on the availability list.
In your household now, how do you and your husband, screenwriter Jerome Kass, divide up the labor?
Well, I do the cooking. And Jerry orders almost everything we need for the house online, 'cause he really loves to do that. He's actually totally out of control with the online ordering. I sometimes walk into this building and there's a box 8-feet tall with more paper towels than you'd ever need in your life. I never know what he's up to. And he loves FreshDirect. But I love to shop too.
We don't really have strict division of labor -- except that, you know, he's cleaner than me. So he's better at dishes. It's always good to be bad at something that you don't want to do.
Do you have a work persona and a non-work persona?
No. I bet people in offices do.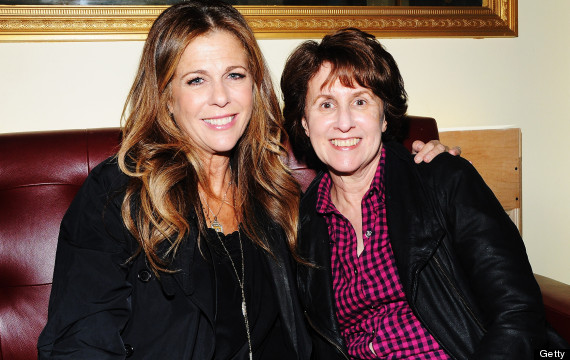 Delia with actress Rita Wilson.
What is your "work uniform"?
It's jean leggings and a t-shirt. Who dresses up to write? You have to be careful you don't start wearing clothes that seem like bathrobes. My friend Julia is always saying to me, "Watch out for the sweats." It's a slippery slope.
Do you think throughout your career that you've been paid what you're worth?
I think my publisher should be paying me more. I want you to put that in the piece. Oh no, I'm probably going to get in horrible trouble for that.
Is there a woman you know of who is Making It Work? We'd love to include her in our series. Send your suggestions to women@huffingtonpost.com.
This interview has been edited and condensed.
To read more "Making It Work" interviews...
PHOTO GALLERY
How Amazing Women Are "Making It Work"