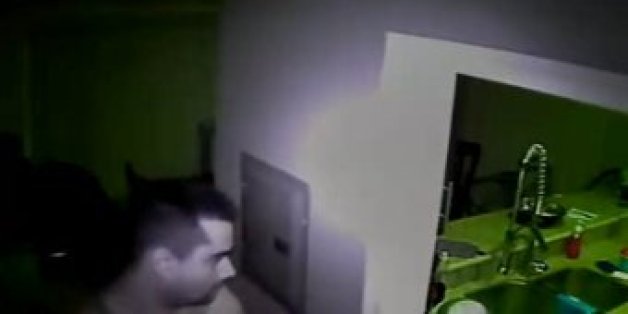 Newly released surveillance video shows the chilling moments a South Miami man accused of killing his wife appears to shoot her and take a photo of her body to post on Facebook.
Derek Medina posted the photo the day of the killing August 8, with the words "Rip Jennifer Alfonso." The image showed his wife's leggings-clad body slumped backwards on the floor in the couple's kitchen, her face and left arm covered in blood.
"You will see me in the news," he wrote on Facebook:
Im going to prison or death sentence for killing my wife love you guys miss you guys takecare Facebook people you will see me in the news" my wife was punching me and I am not going to stand anymore with the abuse so I did what I did I hope u understand me "
After he turned himself in to police, Medina's family continued to maintain that his wife had been the aggressor that morning, but the surveillance video, released by the Miami-Dade State Attorney's Office, suggests otherwise. It shows Medina walking away after an argument, then return. Though the shooting is not captured on camera, a swirl of gunpowder fills the screen before Medina walks away again to pick up a jacket, then calmly comes back and appears to take a photo of his wife's body:
Medina told police he shot his wife five or six times, according to a search warrant.
Officials also released Alfono's journal, which she titled "The mind of an Insane women." In it, she spoke of concerns over her relationship with her husband, zombies, and a mind consumed with thoughts of the Apocalypse (all sic):
I think a lot about the past and how much pain we have put each other through makes me wonder if its really love holding us together. I don't really think that I make him happy... all I know is I've worked all night and can't sleep thinking about my unhappy husband and zombies and the world coming to its demise...

After little situations that me and Derek have been through, I find myself uncontrolably jelouse (sic), like want to murder type deal, only the feel...We attempted to go shopping today...maybe 40 minutes his eyes start wandering, more than once, of course my blood boiled and I wanted to rip his eyes right out of the socket, disrespect.
Medina has plead not guilty to second-degree murder, but the Miami Herald reports prosecutors are likely to seek a first-degree murder indictment through a grand jury in the weeks ahead.
Medina, who wrote self-help books, had remarried Alfonso last year after previously getting a divorce. One of his titles was "How I Saved Someone's Life and Marriage and Family Problems Thru Communication."
BEFORE YOU GO
PHOTO GALLERY
Derek Medina Charged With Murder