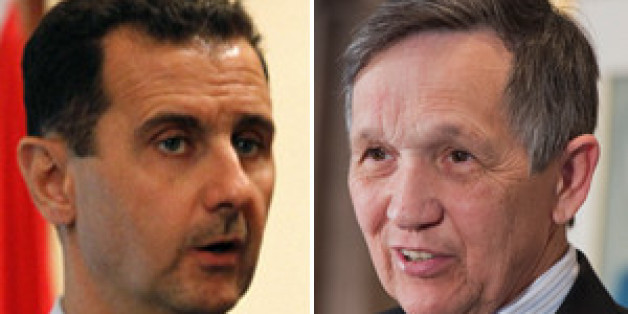 Fox News sat down with Syrian president Bashar al-Assad on Tuesday, and will air the interview Wednesday night.
The interview was conducted by Greg Palkot, Fox News' senior foreign-affairs correspondent, and former Congressman Dennis Kucinich, who joined the network as a contributor earlier this year. The exchange will air from 6:30 to 7:30 p.m.
Assad's office also promoted the broadcast, tweeting,
#President al-Assad gives an #interview to American Fox News channel, to be broadcasted on 01:00 am – Damascus. pic.twitter.com/gVHjyIpPMA

— Syrian Presidency (@Presidency_Sy) September 18, 2013
British ITV News reported news of the interview on Tuesday, which was later tweeted about by the Sunday Times' Hala Jaber.
It is the second interview with an American television network that Assad has agreed to in recent weeks. Charlie Rose landed an exclusive with the Syrian president earlier this month. George Stephanopoulos was granted an interview, only to have it canceled once he got to Beirut.
Michael Clemente, Fox News' executive vice president of news, traveled to Damascus with Kucinich and Palkot. He said in a statement that Kucinich had approached him on Saturday, September 7 saying that he believed he could arrange an interview with Assad.
Clemente noted that there were "no restrictions on the questions that could be asked," that Palkot conducted the interview next to Kucinich and that he was in the control room and studio at the palace. "Kucinich was not there in the capacity of a journalist nor was he representing Fox News in that role," he said.
BEFORE YOU GO