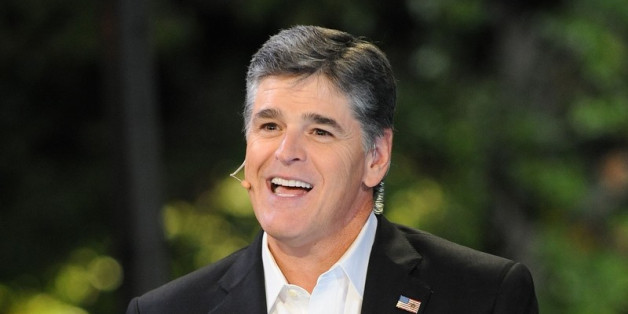 Sean Hannity and Greta Van Susteren both insisted on Tuesday that they were incredibly pleased to be moving from the timeslots they have held down for over a decade each.
Fox News announced a raft of changes to its schedule on Tuesday. Hannity is moving to Van Susteren's 10 PM timeslot, and she is moving to Shep Smith's old 7 PM timeslot. Both changes were precipitated by the elevation of Megyn Kelly from dayside to primetime. Kelly will take Hannity's 9 PM slot.
Lest anyone think they were rousted out of their chairs, both hosts heaped lavish praise on Fox News CEO Roger Ailes and said that the changes were their idea.
Hannity told his radio audience that his move had been in the works for a long time, and that his new format would allow him to spend more time with his children.
"I am extraordinarily happy and blessed and appreciative that Fox has been so supportive, so accommodating, so helpful in helping me to adjust my schedule so I can be home at night more often," he said.
Van Susteren took to her blog, as she is wont to do:
The 7pm opened up with Shep's new challenge and I saw my opening, spoke to Roger Ailes who makes all the decisions (we had spoken months earlier, too, but only in general terms and never specific), and voila! It happened!

I am extremely grateful to Roger Ailes for letting me and letting us have this new challenge. I don't intend to let him down and neither does our very smart and hardworking staff of ON THE RECORD.
BEFORE YOU GO
PHOTO GALLERY
Megyn Kelly Style Evolution