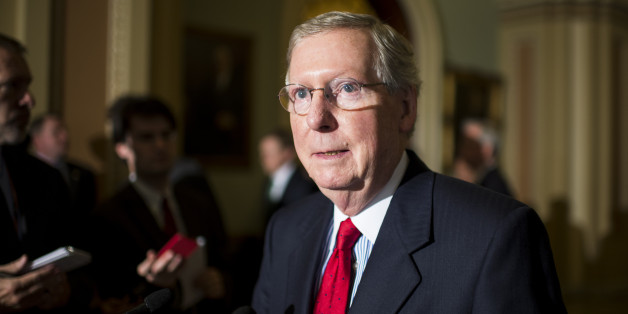 WASHINGTON -- The Senate Democratic campaign arm is aiming to take advantage of widespread disapproval of Republican plans to shut down the government if President Barack Obama's health care reform law is not defunded.
House Speaker John Boehner (R-Ohio) announced that plan Wednesday, declaring his party would strip all funding for Obamacare from a spending bill that must pass by Sept. 30 to keep the federal government open.
The idea was roundly criticized, and now the Democratic Senatorial Campaign Committee is is trying to turn it against GOP candidates running in 2014 contests, such as Senate Minority Leader Mitch McConnell (R-Ky.), mounting a new web campaign dubbed "GOP Government Shutdown Watch."
Democrats are billing it as a "major" online effort that will feature ads on Facebook, Twitter and other sites.
"Our 'GOP Shutdown Watch' campaign will hold Republican Senate candidates accountable for their reckless plan to shut down the government and possibly force the country into default," said DSCC spokesman Justin Barasky. "Many Republican leaders have slammed the extreme and dangerous plan, which would have devastating consequences for the entire country, but that has not stopped Republican Senate candidates from cheerleading on behalf of the effort. Without a doubt, Republicans will pay a price in 2014 for their reckless efforts to shutdown the government."
BEFORE YOU GO
PHOTO GALLERY
Do These Things, Don't Cut Entitlements