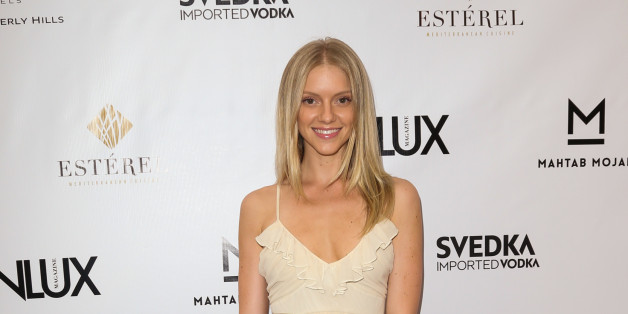 Add Elle Evans to the growing list of celebrities who are still mad about Miley Cyrus' performance at the 2013 MTV Video Music Awards. In an interview with Fox411, Evans -- best known for her appearance opposite Emily Ratajkowski and Jessi M'Bengue in Robin Thicke's controversial "Blurred Lines" video -- said she was "appalled" by Cyrus' MTV stunt.
"I definitely would say that I didn't approve," Evans said of Cyrus and her duet with Thicke during the awards ceremony. "It was distasteful, in a way. I was more disappointed than anything. I don't know. It was a little extreme. It didn't have to be that extreme. It would have been a great performance, everyone loves the song, everyone was really looking forward to it, and I was appalled. I couldn't believe what I was watching, honestly."
According to Evans, Thicke was not prepared for Cyrus' stage show, which Evans claims was different during rehearsals. "I was looking at Robin to see his reaction and I think he was just trying to go with it," she said. "I don't think he expected that."
Evans comments echo what both Cher and P!nk said about Cyrus this week. P!nk called the erstwhile Hannah Montana "tacky" in an interview with E! Online, and admonished the 20-year-old to "do better."
"She's really freaking talented; she's beautiful. She can sing her ass off, and to go up there and do that? She's cheating herself and she's cheating the rest of us," P!nk said.
Cher went even further, telling USA Today that Cyrus "can't dance, her body looked like hell [and] the song wasn't great." Cher later walked back from those comments over a series of tweets:
Re:Miley S....I Think What I Think,but Having Said That...I'm a little ashamed (which is Total bullshit,how can u B a LITTLE ASHAMED) that

— Cher (@cher) September 18, 2013
I didn't keep my big Opinionated mouth Shut.WTF is MY PROBLEM ! I'm 2 Old to fall prey 2"Tell us, Oh wise 1,What did YOU think of M.S ? "

— Cher (@cher) September 18, 2013
What I should have said,"I didn't like it that much,but she's Pushing The Envelope,being an ARTIST ! She's Talented,& DIDNT COMMIT A FELONY

— Cher (@cher) September 18, 2013
But somehow my ego had 2 get ITS 2 CENTS IN! MY BIG ASS "BAD",I DIDNT SUPPORT A FELLOW ARTIST.
TRUTHFULLY SHE WAS Fkng BRILLIANT..CAUSE...

— Cher (@cher) September 18, 2013
WE'RE STILL TALKING ABOUT IT.
Ps this is Not an apology 4 what I Thought,its a Reminder,that if I don't practice my principles,I loose Them

— Cher (@cher) September 18, 2013
Cher has a point: It's almost as if people can't stop talking about Miley. (Sorry.) More from Evans can be found at Fox411.
PHOTO GALLERY
Miley Cyrus' Transformation