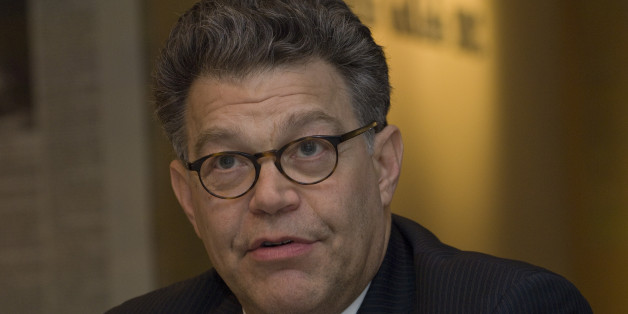 Sen. Al Franken has sent a letter to Apple's chief executive raising what he says are "substantial privacy questions" about the new iPhone 5S fingerprint scanner.
Apple has billed the scanner, known as Touch ID, as "one of the best passwords in the world." But Franken said fingerprints have obvious drawbacks: Unlike passwords, they can be left in public and can't be altered.
"If someone hacks your password, you can change it – as many times as you want," Franken, a Democrat from Minnesota, said in a letter sent Thursday to Apple CEO Tim Cook. "You can't change your fingerprints. You have only ten of them. And you leave them on everything you touch; they are definitely not a secret."
Franken added that a fingerprint uniquely identifies its owner, unlike a string of numbers and letters.
"Let me put it this way: if hackers get a hold of your thumbprint, they could use it to identify and impersonate you for the rest of your life," he wrote. Franken's office released the letter to the media Friday.
Even before the new iPhone 5S was released Friday, hackers have been competing on a website to see who could be the first to "reliably and repeatedly" break into the new phone by lifting prints. Researchers and a venture capital firm who created the online contest are offering more than $13,000 -- as well as alcohol and Bitcoins, a virtual currency -- to the first person to fool the new fingerprint scanner, according to a website that organized the contest.
An Apple spokesperson was not immediately available for comment.
Apple introduced the new fingerprint scanner, called Touch ID, as a way to enhance security, partly because half of iPhone owners do not lock their iPhones with four-digit PIN codes. The scanner allows iPhone owners to unlock their devices with the touch of a finger.
Apple said the iPhone 5S blocks third-party apps from accessing Touch ID. In addition, the device only stores encrypted "fingerprint data" and not actual images of fingerprints, "a decision that could ease concerns from privacy hawks," according to The Wall Street Journal.
But in his letter, Franken asked whether Apple has any plans to share fingerprint data from Touch ID with government or law enforcement agencies. He said it was critical to address how Apple handles biometric technology -- identifying people based on their fingerprints, faces, irises or heartbeats -- because of the company's influence in the market.
"I should add that regardless of how carefully Apple implements fingerprint technology, this decision will surely pave the way for its peers and smaller competitors to adopt biometric technology, with varying protections for privacy," he wrote.