Leave it to Miuccia Prada to turn Fashion Week's biggest trend on its head.
The designer debuted her Spring 2014 runway show in Milan yesterday, proving that she's nowhere near done breaking down boundaries of conventional feminine aesthetics. The show, arguably fashion month's most highly anticipated, left editors in awe as Miuccia's models traipsed down the catwalk sporting a cheeky nod to the forthcoming season's inescapable trend: the crop top. Rather than go the literal route, Prada's gals wore long-sleeve jumpers and coats emblazoned with bras -- how's that for overt sexuality?
The Italian fashion house enlisted muralists Miles "El Mac" Gregor, Mesa, Gabriel Specter and Stinkfish and illustrators Jeanne Detallante and Pierre Mornet to create the set for the show, stating in press materials, "The women on the walls represent the multiplicity of guises that women assume in the course of a day, a lifetime." These images were also used on many of the garments themselves, further driving home Miuccia's message of female empowerment and versatility. (Oh, and did we mention the models walked down the runway to the tune of Britney Spears' "Work Bitch"? Yes.)
Like we said, most of us spent the entirety of NYFW figuring out just how we're going to maneuver the whole crop top/bra top thing come spring. Alexander Wang, Rodarte, BCBG, Tibi, Diane Von Furstenberg and Thakoon are just a few of the major designers who showed the look, so it didn't seem promising for the more modest ladies in the room (present company included).
We certainly have to send a huge thank you to Miuccia for providing a much-needed answer to the intimidating trend that is the crop top. Here's to the woman who taught us, "Ugly is attractive, ugly is exciting." Consider us officially excited to tackle spring dressing.
See some of Prada's aforementioned looks below.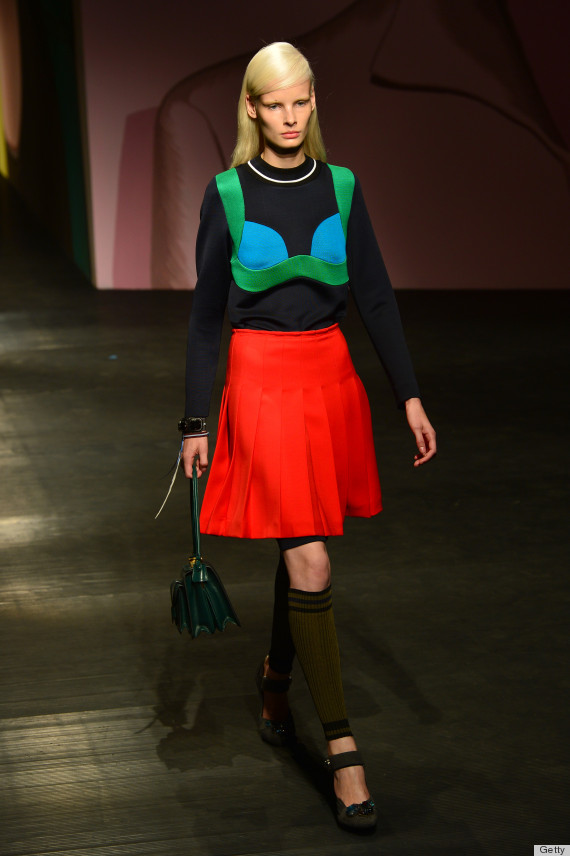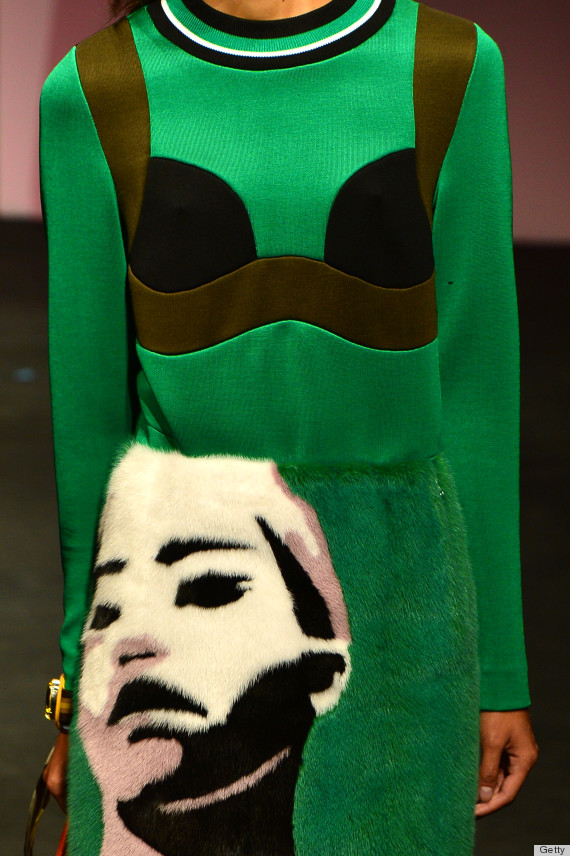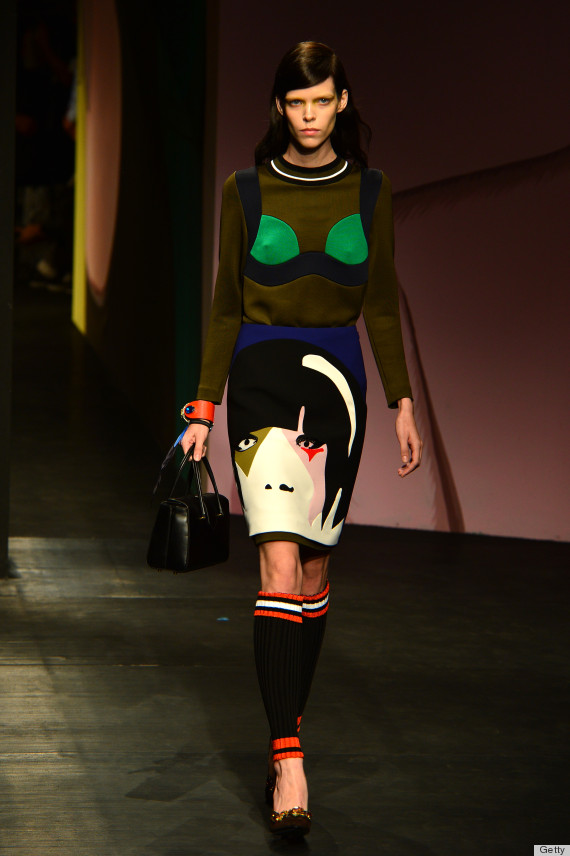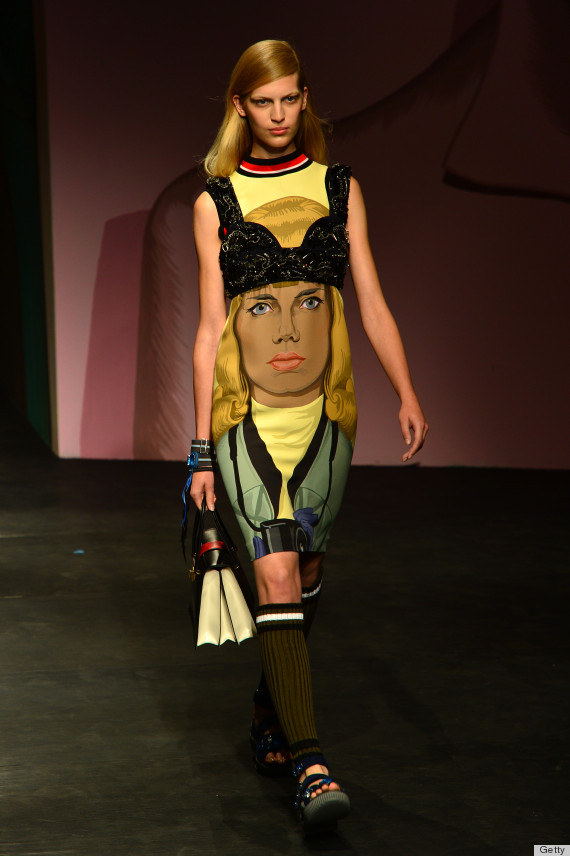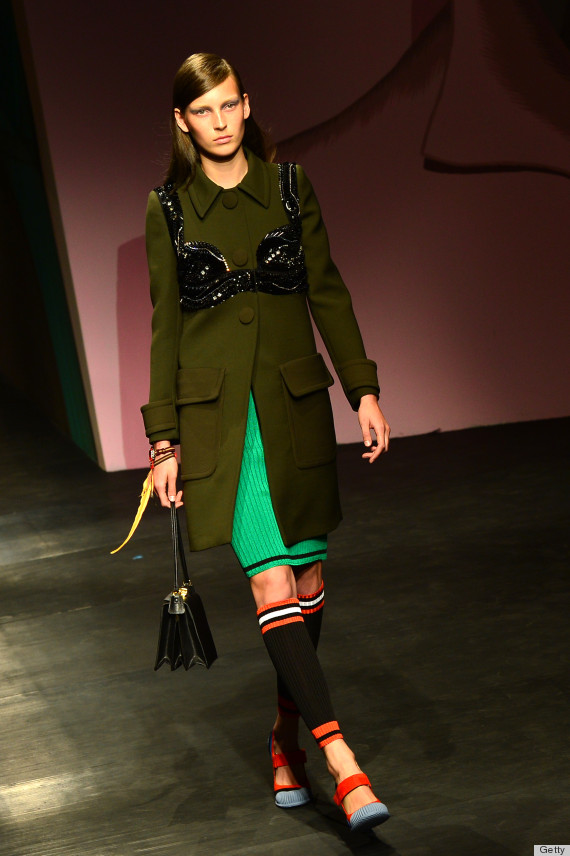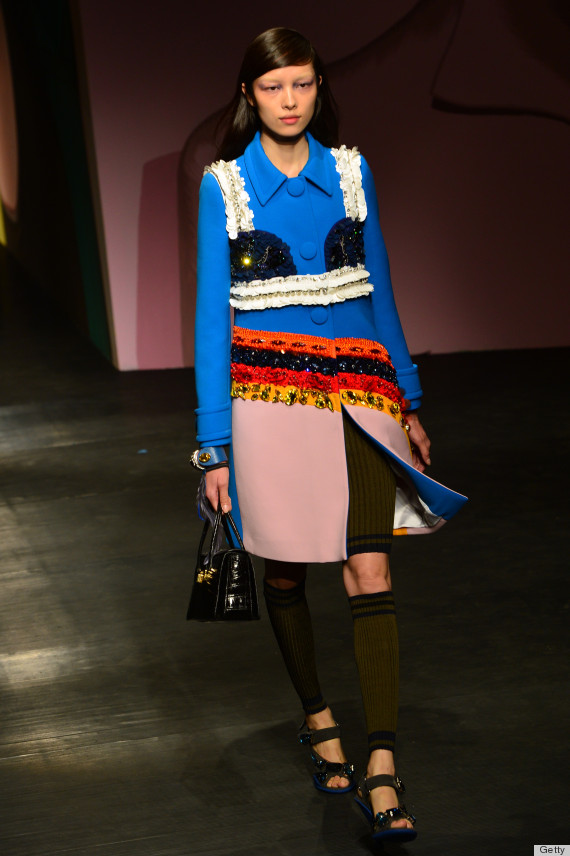 Think we'll be seeing Miuccia's look on the streets?