A Nebraska woman's "babies" Caylee and Cody were taken from her home in the middle of the night Monday. Two days later, the cherished gibbon monkeys were recovered in Florida.
Nancy Stephens, the owner, suspected that twins who lived with her this summer had taken the primates, reportedly worth $25,000 each, according to Lee County Sheriff's Office.
Police say Deborah Misotti, owner of The Talking Monkey Project Inc. in Clewiston, Florida, who is contacted to the twins on Facebook, managed to convince the brothers to give her the monkeys as she has a license for the endangered species.
Yet before that could happen, cops pulled over the twin's vehicle in Fort Myers and found the stolen monkeys in the backseat.
Their owner Stephen studies behavioral sciences, but she told news stations that she also considers the two and three-year-old monkeys her "babies."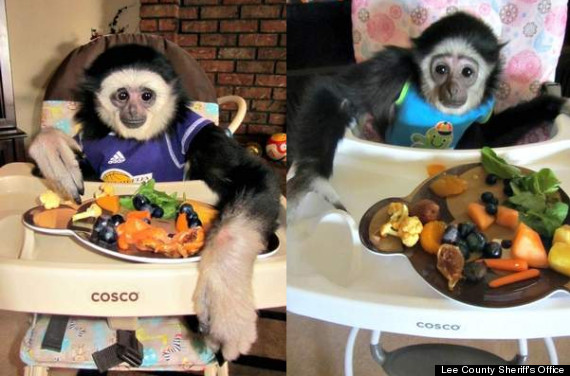 BEFORE YOU GO
PHOTO GALLERY
Baby White Cheeked Gibbon At Zoo Miami