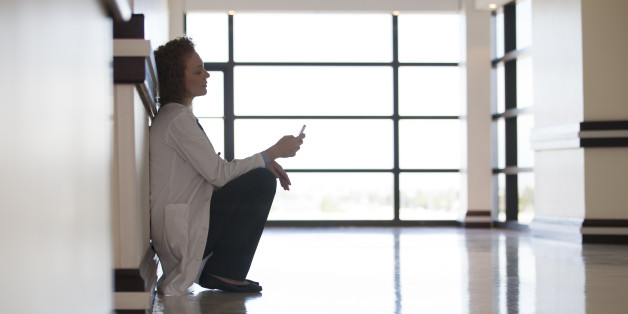 A doctor's work may be objectively meaningful, but all those long hours could be taking a toll on his or her own well-being and work-home balance, according to new research.
A study in the Journal of General Internal Medicine shows that about half of doctors experience work-home conflicts, which raises the risk of burnout.
The study is based on survey results from 7,288 doctors (75.2 percent of whom are men) and 891 partners of doctors (73 percent of whom are women), who were evaluated on their burnout, quality of life and depression symptoms, as well as satisfaction with work-life balance, relationships and career. They were also questioned about work-home conflicts.
The Mayo Clinic researchers found that 44.3 percent of doctors and 55.7 of employed partners reported work-home conflicts in the last three weeks, with more work hours correlating with greater work-home conflicts.
Plus, work-home conflict was linked with burnout, with 47.1 percent of doctors who recently had a conflict reporting burnout symptoms, compared with 26.6 percent of doctors who didn't recently have a conflict.
Female doctors, younger doctors, and doctors working at academic medical centers seemed to be especially affected by work-home conflicts, researchers found.
They explained potential ramifications of work-home conflicts in the study:
Previous studies of surgeons suggest an association between WHC and professional burnout, symptoms of depression, poor quality of life, alcohol abuse/dependency, relationship difficulties, and career dissatisfaction. Another study found that physicians who experienced role conflicts (as they struggle to balance personal responsibilities with a demanding medical career) were more dissatisfied with their spouse and parental duties. In addition, WHC also appear associated with career decisions, such as intent to reduce clinical hours and leave the current practice, which may impact access to medical care.
The author of this study, Liselotte Dyrbye, found in past research that work hours and the presence and resolution of work-home conflicts have huge sway over burnout symptoms among doctors. Those findings, which were published in 2011 in JAMA Internal Medicine, suggest "that work/home conflict and how that conflict is managed may be central factors for physician burnout in a variety of practice settings."
Recently, a study in the journal Annals of Family Medicine showed that mindfulness training could be a useful tool in combating burnout in doctors and helping them better connect with their patients.