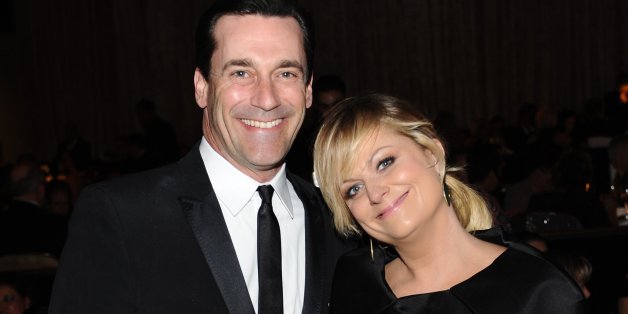 Jon Hamm and Amy Poehler are throwing an Emmy party Sunday night for the losers.
The "Mad Men" star spilled the details about the secret bash to E! News, saying that he and the "Parks and Recreation" star devised the plan last year at Kristen Wiig's post-Emmy party. The "Saturday Night Live" alum hosted the bash in her hotel room after losing the award for Supporting Actress in a Comedy Series to "Modern Family" actress Julie Bowen. Both Hamm and Poehler had also lost in their respective categories.
"We called it the Losers Lounge because nobody that was there won and it kind of stuck," Hamm told E! News. "We were like, 'That was a really fun party. We should do that again, but we should do it bigger and better and invite our friends who aren't going to win either and we'll have a good time with it.'"
Emmy winners won't be turned away, but they need to leave their statues at the door and donate $1,000 to a chosen charity.
Both Hamm and Poehler are nominated again this year. He is up for Outstanding Lead Actor In A Drama Series and she is up for Outstanding Lead Actress In A Comedy Series.
While the "Losers Party" sounds awesome in its own right, the biggest celebration of all is undoubtedly the Primetime Emmy Awards Governors Ball.
The Governors Ball will take place immediately after the Emmys, with 3,800 guests descending on the West Hall of the Los Angeles Convention Center, according to CBS. The party will have an "enchanted forest" theme and showcase performances by The Red Hot Band as well as Australian singer Jessica Mauboy. Guests will munch on little gem lettuce salad, filet mignon, potato-pear gratin and devil's food cake. Over 5,000 bottles of wine are ready to be served.
The 65th Annual Primetime Emmys air Sunday, Sept. 22 8 p.m. ET on CBS.
BEFORE YOU GO
PHOTO GALLERY
2013 Emmy Winners