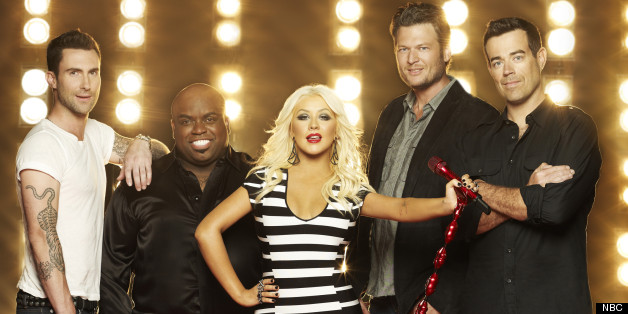 This is "The Voice"!
Competing against perennial favorite "The Amazing Race" -- which has won nine times of the last 10 years this category has been around -- and "Top Chef," the only show to beat "Race" in 2010, as well as "Dancing With the Stars," "Project Runway" and "So You Think You Can Dance," this might be one of the biggest upsets of the night.
"The Voice" is the newcomer to this category, getting their first Emmy nominations last year -- four total, with no wins -- but they pulled off a surprise upset tonight, winning in this main category, one of their five nominations of the year.
"The Voice" Season 5 premieres Mon., Sept. 23 at 8 p.m. ET on NBC.
09/22/2013 11:12 PM EDT
Deserved?
09/22/2013 11:09 PM EDT
BREAKING BAD!!!!
"Breaking Bad" just won the Emmy for Outstanding Drama Series!!
09/22/2013 11:06 PM EDT
Outstanding Comedy Series ...
"Modern Family."
09/22/2013 10:56 PM EDT
Outstanding Lead Actor in a Miniseries/Movie is ...
Michael Douglas!
09/22/2013 10:48 PM EDT
Oustanding Supporting Actress in a Miniseries/Movie is ...
Ellen Burstyn for "Political Animals."
BEFORE YOU GO
PHOTO GALLERY
2013 Emmy Winners