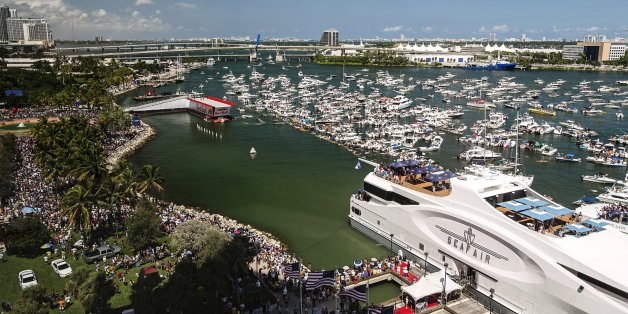 Red Bull's famous slogan claims to "give you wings," but not everyone flew very far Saturday at the energy drink's signature event.
Known as Flugtag, which is German for "you're about to get lots of water up your nose," the contest involves creatively-dressed crews attempting to fly homemade contraptions off a pier. Typically dressed in wacky or themed clothing, teams are judged on distance achieved, showmanship, and creativity.
The latter two were especially on display at the competition Saturday in Miami. Because Flugtag has only been held in little more than 35 international cities since debuting in 1992 in Vienna, the event in Bayfront Park drew a huge crowd and hyped-up teams from Miami and beyond. Our sympathetic favorite was a wingless hamburger that was doomed to drop like a stone, but was accompanied by a crew dressed as ketchup and mustard that knew how to wiggle.
In what we can only consider a local humiliation, a team of zombies from Tampa won the day with a "half-eaten brain" launch vehicle a glider that resembled a spinal cord.
Check it out:
PHOTO GALLERY
Flugtag Miami 2013