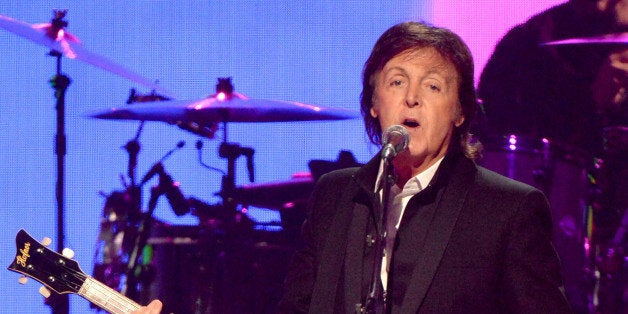 Paul McCartney hit Las Vegas this past weekend, joining big names including Justin Timberlake, Elton John, Miley Cyrus and Katy Perry for the iHeartRadio Music Festival.
The 71-year-old singer performed to a packed crowd, playing classic songs from the Beatles and introducing some of his own new material. McCartney performed three songs off of his upcoming album at the music festival, giving fans a taste of "New." Due out in October, "New" is led by a single of the same name which McCartney released earlier this summer.
The Beatles alum also performed tracks off of "New" called "Save Us" and "Everybody Out There." "It's funny, when I play people the album they're surprised it's me," McCartney recently said of the the album. "A lot of the tracks are quite varied and not necessarily in a style you'd recognize as mine. I didn't want it to all sound the same. I really enjoyed making this album." The 12-track "New" features production by Paul Epworth, Giles Martin, and Mark Ronson.
Check out videos of McCartney playing "Save Us," "Everybody Out There," and "New," below.
PHOTO GALLERY
Rare Beatles Photos
BEFORE YOU GO