"Supernatural" premieres on its new night, Tuesday, Oct. 8 at 9 p.m. ET, and HuffPost TV has a first look at the dark new key art for Season 9. Check out the poster below, featuring Sam (Jared Padalecki), Dean (Jensen Ackles), Castiel (Misha Collins) and Crowley (Mark Sheppard), and prepare for the fall ...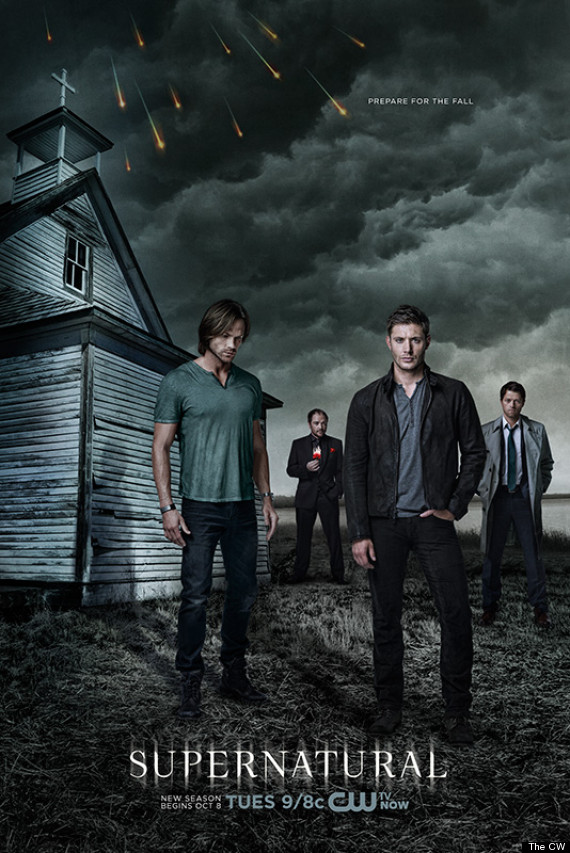 Sam definitely seems to be struggling in the atmospheric new art, while Dean looks ready for battle once more. We're wondering how long Castiel will be rocking that iconic trenchcoat now that he's effectively human, but we're mostly concerned about Crowley lurking ominously in the background.
Here's the episode description for the Season 9 premiere, titled "I Think I'm Gonna Like It Here":
Dean (Jensen Ackles) is frantic after Sam (Jared Padalecki) collapses and the doctor tells Dean his brother won't make it. Desperate, Dean sends out an all points bulletin via prayer to every angel in the area, asking them to help his brother. In exchange, Dean will owe that angel a favor. Numerous angry angels race to find and kill Dean, but one, Ezekiel (guest star Tahmoh Penikett), gets to him first. Meanwhile, Sam fights for his life and must face some familiar demons to do so. Castiel (Misha Collins) struggles to survive without powers. John Showalter directed the episode written by Jeremy Carver
As the episode summary hints, expect to see Tahmoh Penikett as the fallen angel Ezekiel, plus the return of fan favorite Bobby (Jim Beaver), in the Season 9 premiere -- you can take a peek at photos and the extended promo for the episode below. As revealed at Comic-Con, geek goddess Felicia Day will be reprising her role as Charlie in Season 9, and Alaina Huffman will be back as Abaddon, who will continue to menace the Winchesters.
"Supernatural" fans can also look forward to a proposed spinoff, which will be planted as a backdoor pilot in Episode 20 of Season 9. if The CW picks it up, the spinoff will "explore the clashing monster and human characters," and "have main characters who are both human and monsters." It's designed to be much more of an ensemble show than "Supernatural."
Are you looking forward to "Supernatural" Season 9?
PHOTO GALLERY
Supernatural