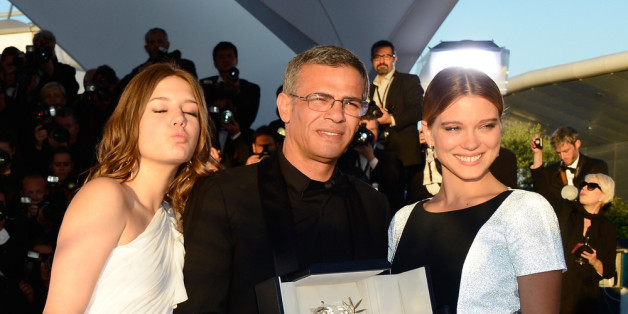 Abdellatif Kechiche, the director of Palme d'Or winner "Blue Is The Warmest Color," has told French magazine Telerama that he doesn't want the film to be released amid controversy about his techniques as a director.
"I think this film should not go out, it was too dirty," Kechiche said (translation via Google). "The Palme d'Or was a brief moment of happiness, then I felt humiliated, disgraced. I felt a rejection of me, I live like a curse."
Kechiche came under fire after "Blue Is The Warmest Color" stars Léa Seydoux and Adèle Exarchopoulos spoke to The Daily Beast about the production process for the film, which included lesbian sex scene between the two actresses that took 10 days to film. (The finished product lasts 10 minutes onscreen, and its graphic nature is the reason "Blue Is The Warmest Color" was rated NC-17 by the Motion Picture Association of America.)
"Once we were on the shoot, I realized that he really wanted us to give him everything," Exarchopoulos said. "Most people don't even dare to ask the things that he did, and they're more respectful -- you get reassured during sex scenes, and they're choreographed, which desexualizes the act."
Seydoux described another scene that Kechiche requested "100 takes" for before the director "burst into a rage" because the French actress broke character.
"I walked by Adele and laughed a little bit, because we had been walking by each other doing this stare-down scene all day. It was so, so funny," she told The Daily Beast. "And [Kechiche] became so crazy that he picked up the little monitor he was viewing it through and threw it into the street, screaming, 'I can't work under these conditions!"
Since the Daily Beast interview published, Kechiche lashed out against Seydoux, whom he claimed was ungrateful.
"How indecent to talk about pain when doing one of the best jobs in the world," Kechiche said during a press event for "Blue Is The Warmest Color" (via Gala Magazine). "The orderlies suffer, the unemployed suffer, construction workers could talk about suffering. How, when you are adored, when you go up on red carpet, when we receive awards, how we can speak of suffering?"
In the Telerama interview, Kechiche says he toyed with the idea of replacing Seydoux part-way through the film shoot, but decided against making a move.
For more from Kechiche, head to Telerama.
[via Indiewire/The Playlist]
PHOTO GALLERY
Celebrity News & Photos