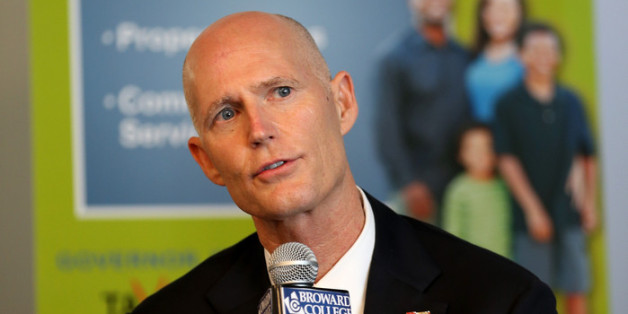 One week away from the start of the Affordable Care Act, at least two Florida counties have announced plans to defy the state's ban on Obamacare navigators.
Citing identity theft concerns, Florida officials recently prohibited "navigators," counselors hired under the Affordable Care Act to help the uninsured sign up for the state's expanded insurance program, at county health departments.
"Privacy has been a big issue for me," Gov. Rick Scott (R) said regarding the navigators. "We don't know how this information is going to be used."
The "cruel and irresponsible" ban inspired the New York Times editorial board to write that Scott should "hang his head in shame," and incited harsh criticism from U.S. Health and Human Services Secretary Kathleen Sebelius.
Yet heavily Democratic Broward and Pinellas counties have found a way around the directive.
Pinellas County Health Department Director Dr. Claude Dharamraj, a state employee, pointed out that health department buildings are county property, adding "I believe I am not in the position to dictate to (the county) what kind of staff they put in their office," reports the Tampa Bay Times.
WSUF reports that eventually a compromise was reached, allowing navigators inside Pinellas County buildings but outside of Department of Health offices.
Broward Mayor Kristin Jacobs recently sided with Pinellas, saying "It is criminal that anyone would put their foot out to trip up that process for sharing (Affordable Care Act) information," as reported by Broward Bulldog. "You can't tell us that we can't do that in our own facility."
The heavily Democratic Broward County Commission is expected to approve the mayor's resolution Tuesday.
Jacobs expected more Florida counties to follow suit after last week's Florida Association of Counties meeting, where she says "Everybody was having the same conversation. 'What were they thinking? Why are they doing this?'"
Despite having the second-highest uninsured population in the U.S., Florida has continually tried to thwart expanding coverage to its residents under Obamacare.
The state led an unsuccessful suit to stop the law, voted to use state funds to expand a private program to just 130,000 residents as opposed to using federal dollars to cover more than a million uninsured, declined to set up its own state exchange, and relaxed Tallahassee's ability to regulate rates in the state.
"In states like Florida that seem determined to sabotage reform," wrote the New York Times editorial board, "the uninsured may have a very hard time getting the coverage they need and deserve."
BEFORE YOU GO
PHOTO GALLERY
Lies And Distortions Of The Health Care Debate