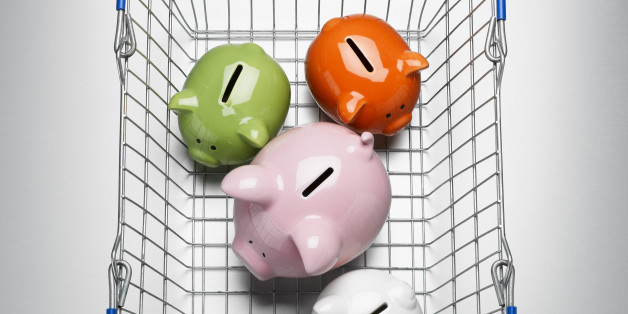 WASHINGTON, D.C. — A confrontation looms over food stamps.
This is a sensitive issue for Hawaii. The number of food stamp recipients here has nearly doubled over the last six years. In raw numbers, that is a jump from 89,646 people in June 2007 to 189,855 in June 2013, according to the Hawaii Department of Human Services.
The growth in the number of people who rely on food stamps throughout the country has drawn renewed attention from congressional Republicans who are working to slash the program sharply. Under a House bill passed last week, which will now head to the Democratic Senate, federal spending on food stamps would be cut by $39 billion over the next decade, according to an analysis by the Congressional Budget Office.
What is at stake in Hawaii is whether approximately 4,000 households on food stamps — that's about 8 percent of all recipients in the islands — will lose financial help that covers basic food costs. Hawaii has some of the most expensive food in the nation.
Most conservatives readily acknowledge that the state of the economy over the last decade has led to heavier dependence on food stamps. But what they say bothers them is changes in the program that broadened parameters for exactly who could access such funds. Their goal, they say, is to roll back the parameters that define who can receive such aid.
How Access Changed
Hawaii is a prime example of how people with higher incomes and money in the bank have been able to gain access to food stamps over the last decade. (The average household on food stamps receives $427-a-month here.)
Part of the reason for the growth, Human Services department spokeswoman Kayla Rosenfeld acknowledged, is that the state made a number of changes in October 2010 that permitted more people to qualify.
For one thing, the state allowed people who make up to 200 percent of the federal poverty level to access food benefits, up from the maximum 130 percent of the poverty line. In other words, a family of three with an income of $43,920 a year, can now get food stamps. In the old days, families of the same size could only have qualified if they earned less than $28,548.
Also, officially, households where there is no elderly or disabled person cannot receive food stamps if they possess more than $2,000 in assets such as savings. But the state has stopped checking to see if households had too many assets. That allows people into the program who have some means to tap into, rather than relying on governmental help. In addition, a June 2012 General Accounting Office report said that the fact that they no longer check assets, such as bank accounts, may have increased the likelihood of fraud.
Those steps by the state took place in 2000 after the Clinton Administration gave states greater discretion in deciding who was eligible for food stamps, said Rachel Sheffield, a policy analyst at the conservative Heritage Foundation.
"We need to have a safety net," she said. "But we need to make sure it's going to people truly in need."
At its core, the Republican roll-back effort raises the question of whether states like Hawaii went too far in trying to help people during hard times. About 40 states, in all, have made it easier for people to get food stamps. The actual cost of food stamps nationally has quadrupled from $20 billion in Fiscal Year 2000 to $80 billion in Fiscal Year 2012, according to the Heritage Foundation.
The House bill would, among other things, impose a work requirement even in high unemployment areas and in states where there are no jobs programs in place to facilitate employment for food stamp recipients. It would also eliminate steps that states have taken to expand eligibility for the program.
However, opponents of the bill — including Hawaii's House delegation — say the states only modestly expanded the program to include people who barely made too much to qualify for help. Scaling back food assistance for such families would, according to the Congressional Budget Office, knock 4 million people off the program's rolls in 2014, and the number of people receiving food stamps in a typical month in 2023 would be 14 million fewer than today.
Rep. Colleen Hanabusa, who voted against the food stamp-limiting measure, said in a statement on Friday, "This mean-spirited bill would have devastating impacts on our nation's most vulnerable populations ... Most [Supplement Nutrition Assistance Program] families with children are working if they are able, but do not earn enough to put food on the table when they have other pressing expenses like rent and medical bills.
Rep. Tulsi Gabbard, who also voted against the bill, said in a statement, "SNAP is a critical tool to fight hunger in the U.S. ... There is no question we must continue to work to address fraud and abuse within the system, but this bill is not the way to do it."
Beyond the efforts to shrink the food stamps rolls, the actual monthly payments for those who receive them in Hawaii and elsewhere could drop by $29, when a temporary increase built into the 2009 stimulus package runs out at the end of October.
Changes Too Harsh?
It's unknown how much of the increase of the caseload in Hawaii and nationally resulted directly from the broader eligibility rules. The state human services department declined to provide an estimate.
But nationally, the GAO report estimated that in fiscal year 2010, 2.6 percent of people who received food stamps would have been disqualified for having too much income by the old standards. And the cost of all those additional people came to about $460 million for the year, the GAO report said.
That price tag — and the symbolism of people feeding from taxpayer largess — has helped to make the program a target for Republicans, particularly Tea Party conservatives who bristle at the cost of nearly all welfare programs.
Megan Whittemore, spokeswoman for House Majority Leader Eric Cantor told Civil Beat, "House Republicans are working to restore the integrity of this safety-net program and protect it for those who need it most. We want to help provide jobs and opportunities for those who are able to work in order to get government benefits. By encouraging people to engage in job training or workfare we can help those in the program build the skills and gain the experience they need to become self-sufficient in the future."
Sheffield, in a policy paper, wrote that food stamps should be reformed to focus on people "truly in need."
Who those people are, though, is the question.
Hawaii's human services department declined to make anyone available for an interview to discuss the changes in eligibility. Rosenfeld, in an email, said only that the state's decision to make it easier to qualify fit with the program's mission, which she described as being "to provide access to food, a healthful diet and nutrition education to every eligible person" who seeks assistance.
National food stamp advocates note that states like Hawaii began making it easier to get food stamps as more people began struggling at the beginning of the recession. Ellen Vollinger, legal director for the Food Research and Action Center, said in an interview that by loosening eligibility states were able to help "a great number of people who were newly needy in the wake of the recession." With the number of jobs rebounding slowly, she said, many people still need help.
Just having a job brings few guarantees on the food front, she said, noting, "I'm sure it's true in Hawaii, but many food (banks) on the mainland are finding that many working people just don't have enough for food."
She added that it's deceiving to say people with higher incomes are getting food stamps. Under the program, the more money people earn means the less they receive in benefits. The GAO report noted that those who qualified because of the broadened standards received on average $81 monthly, compared to $293 for other households. In Hawaii, due to its higher cost of living, the average household on food stamps receives $427-a-month in benefits, according to the U.S. Department of Agriculture.
And, Volliner said, the criticism that people with slightly higher incomes can now qualify for food stamps ignores the fact that there's a two-step test to decide whether a household can get assistance. True, people up to 200 percent of the poverty level can now qualify, she said. But those people only qualify if their net income is below the poverty line.
The real difference, she said, comes from people who have to pay a lot for child care or housing, but who make a little more than the old income limit. The change to allow higher income people to pass the first step of the test "was a recognition that the old rules were outdated," she said.
Similarly, she said, the change to stop disqualifying people who have more than $2,000 in assets, including the value of their cars, simply reflects reality. People need to be able to have reliable cars to get to work, she noted, and shouldn't be disqualified for that.
The liberal Center for Budget & Policy Priorities also argues that the number of food stamp recipients will naturally decline as the economy improves. The center noted that the increase in the number of people on food stamps has slowed in the last year, as the economy gradually recovers. It also noted that the Congressional Budget Office projects the number of people on food stamps as a share of the economy should return to 1995 levels by 2019.
BEFORE YOU GO
PHOTO GALLERY
9 Companies That Really Love Food Stamps