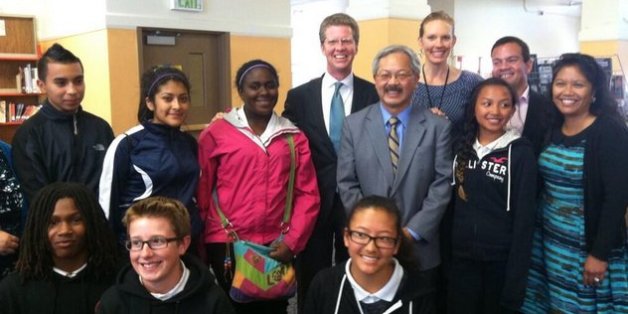 Kids say the darndest things.
On a recent visit to Everett Middle School in San Francisco's central Mission District, Secretary of Housing and Urban Development Shaun Donovan hosted a round-table discussion with students, asking them about issues in their neighborhood.
According to SF Weekly, one student had a shocking -- but perhaps, telling answer: white people.
"The Mission District, around here, has changed a lot because there's a lot of white people taking over the Mission," said a 12-year old, when asked by her principal what's changed in the surrounding area. "I used to always see Latinos in the Mission -- and, yeah.

"People are moving out of the Mission because it's getting more expensive, since so many more white people are moving to San Francisco," the girl continued. "And that's why it's harder to get to school and black people are moving out."
HUD and Everett Middle School principal Lena Van Haren both confirmed the girl's answer to The Huffington Post.
According to neighborhood blog Mission Local, Donovan quickly replied that the president and HUD were working hard to create affordable housing in the neighborhood so residents will not be pushed out. He reportedly mentioned the Valencia Gardens housing project, which was rebuilt in 2006.
The girl's comment underlines a long-term problem in San Francisco, which, over the past few decades, has seen the steepest drop in its black population of any U.S. city.
According to census data, the black population dove from 13.4 percent of city residents in 1970 to 6.5 percent in 2005. In 2012, it was 6.1 percent.
While the city's Latino population has continued to climb, the Mission -- a neighborhood rich with Latino tradition and influence -- has seen notable gentrification over the past 10 years, as expensive restaurants, bars and design stores have exploded across its streets. A merchants' association sought a moratorium on new restaurants along the area's main artery, Valencia Street, last year.
"Valencia needs to be a cohesive neighborhood for people who live in it," Valencia Corridor Merchants Association president Deena Davenport told local blog Uptown Almanac at the time. "We have no florist, no hardware store, no large grocery store. Restaurants are taking over so rapidly, it's as much as tripling rents lately."