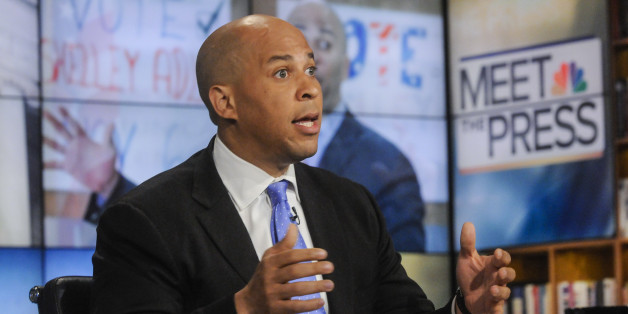 Newark Mayor and Democratic Senate Candidate Cory Booker has dismissed controversy over a private Twitter conversation he had with a stripper from Portland.
BuzzFeed first reported Wednesday that Lynsie Lee, a stripper at the vegan strip club Casa Diablo, began talking with Booker after they both appeared in "Follow Friday: The Film," a movie about Twitter. Lee recently tweeted a screenshot of a direct message between herself and Booker, where the mayor tells Lee "the East Coast loves you and by the East Coast, I mean me."
(Click here to see the screenshot on BuzzFeed. Warning: post contains NSFW content.)
Lee told BuzzFeed the conversation "began with me sending an actual tweet saying that the west coast loved him, especially me."
Booker posted a couple of lighthearted tweets referencing the report Wednesday night:
All right @BuzzFeedBen last time I ever appear in a film with you! Sorry @erinscafe (big smile).

— Cory Booker (@CoryBooker) September 25, 2013
Thanks 4 the clarification (lol) MT @DaveTKoenig: Just to end speculation right now, Cory & I follow each other, and it's purely platonic.

— Cory Booker (@CoryBooker) September 25, 2013
A spokesman for Booker responded directly to the story in a statement Wednesday.
"The mayor talks with people from all walks of life on Twitter," said Booker spokesman Kevin Griffis. "The most shocking part of the story was learning that there is a vegan strip club in Portland."
BEFORE YOU GO
PHOTO GALLERY
11 Paranoid Obama Conspiracy Theories