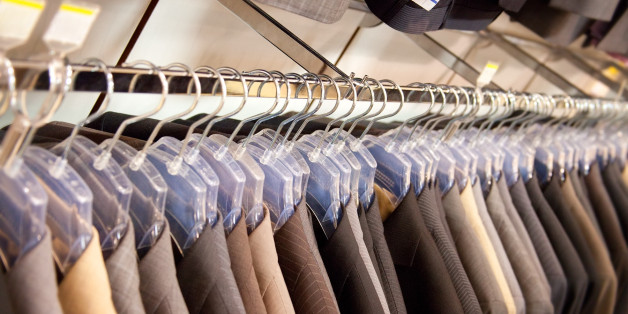 "It's an investment, really," we've caught ourselves saying upon purchasing many a handbag or pair of shoes. Well, for an elite few, that desperate rationalization is actually a reality.
Enter Garde Robe, a members-only, super-secret clothing storage company, profiled in today's New York Times. If you've ever felt self-conscious about the size of your closet (and you're not royalty), this is the article that will make you feel better -- or, perhaps, worse.
Doug Greenberg, one of Garde Robe's partners, tells the Times that his clients "are wise enough to protect [their clothing] like a piece of art." And that art is well-protected: Garde Robe boasts security to rival fine jeweler Harry Winston's, and "each item that comes in for storage is inspected for dirt or other contaminants, sterilized, photographed and cataloged in a database." Picture Cher's closet from "Clueless," off-site and willing to make same-day deliveries.
Data suggests that the average woman owns 20 pairs of shoes (no small number), Garde Robe's client minimum accommodates 50 items of clothing, 10 pairs of shoes and a box of accessories -- for $4,200 annually. Still, an unnamed "billionaire real estate magnate" pays $150,000 per year to store his collection. Compare that to the average woman, who spends approximately $134,000 on clothes and shoes in her lifetime, and we're not feeling like such spendthrifts anymore.
Still, Garde Robe is meant to protect those true investments, such as Oscar de la Renta's ready-to-wear archive and an anonymous Hollywood filmmaker's shoe collection. While studies show that our average daily ensemble amounts to $1,500 worth of clothing and accessories, we doubt our Forever 21 sundresses merit a climate-controlled, Fort Knox-ified space -- and as much as we lust after runway collections, we're happy that our clothing is cheap enough to store in our own homes.
Read more about the clothing collections of the rich and famous on the New York Times' site and tell us: Would you spend a fortune on clothing just to keep it in secret storage?
CORRECTION: An earlier version of this post incorrectly stated that Garde Robe's minimum storage fee is $4,200 per month. The company actually charges customers a minimum of $4,200 per year.
How does your closet compare?
Want more? Be sure to check out HuffPost Style on Twitter, Facebook, Tumblr, Pinterest and Instagram at @HuffPostStyle.